Rangers say 17,000 season-ticket renewals reduces short-term needs
Last updated on .From the section Football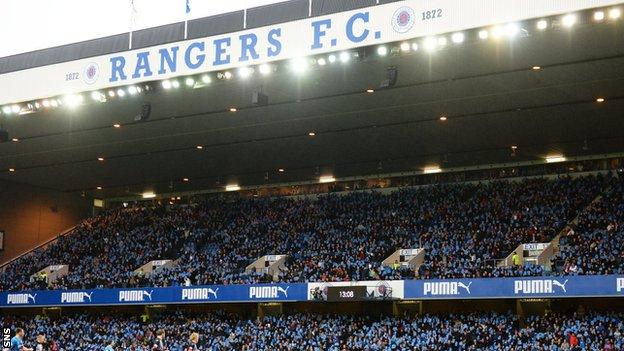 Rangers say "approximately 17,000 season tickets have been renewed" after calls for sales figures to be released.
The Union of Fans had urged customers to pay their season ticket money into the 'Ibrox 1972 Fund' in protest against the club's board.
Last season's total season-ticket sales exceeded 34,000.
The UoF now aim to talk to the club with a view to releasing money from the 'Ibrox 1972 Fund' in return for security over Ibrox and Murray Park.
The club have, however, said the renewals "reduces the potential requirement for short-term financing", with Rangers planning to raise up to £8m from a new share issue later this year.
This was outlined in chief executive Graham Wallace's April business review, which highlighted the need to raise up to £30m over three years and the ambition to be Scottish Premiership champions by 2017, with the club entering the Championship this season.
Last week, Wallace told fans that the Ibrox club was "in a good place" financially.
And they have made two summer signings in the shape of defender Darren McGregor and forward Kenny Miller.
The UoF-backed 'Ibrox 1972 Fund' initiative is fronted by former Rangers captain Richard Gough and former Ibrox director Dave King.
They want the club property put up as security to safeguard season-ticket money.
"We will now make one final attempt to engage with the board and see if they wish to secure the money committed to the Ibrox 1972 fund by providing a legally binding pledge that they will not sell Ibrox or Murray Park," the UoF said in a statement.
"They are well aware such a pledge would greatly increase the level of renewals and we would once again question why they refuse to provide it.
"If they refuse to engage or refuse to provide such a pledge then we will recommend to fans that they continue to support the team, but only on a game by game basis."
Calls for fans to withhold their season ticket money led to question marks over the ability of Rangers to meet the sales figures required for season 2014-15.
A previous share issue in 2012 had raised over £20m but a £14m loss was revealed in last year's accounts for the 13 months to June and interim results in December showed a £3.5m loss.
And Rangers have taken out £1.5m in loans from shareholders in recent months to cover working capital needs.