World Cup 2014: Australia's Massimo Luongo aims to shine
Last updated on .From the section 2014 Fifa World Cup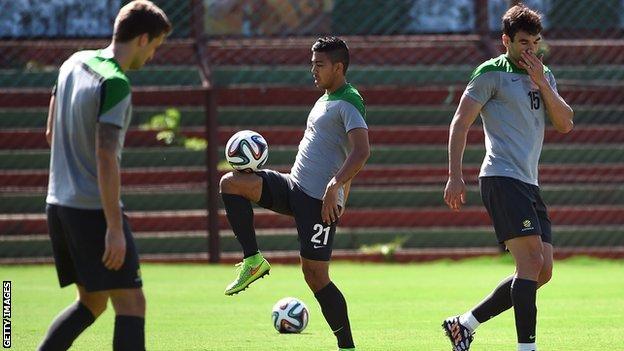 Swindon midfielder Massimo Luongo has set his sights on impressing at this summer's World Cup.
The 21-year-old has been included in the Socceroos' 23-man squad for the trip to Brazil, despite only making one substitute appearance for his country.
And the former Tottenham trainee believes a good performance in Rio will help his career progression.
"I don't know if I will play much, if at all, but it can't hurt to get my name out there," he told BBC Wiltshire.
"I don't know if it's the right decision to leave Swindon or if I want to, because I enjoy being at the club, but we'll have to see. There might by options after the World Cup."
Luongo, who was born in Sydney, joined Swindon on loan from Spurs in March 2013 before making a permanent move to the County Ground six months later.
He made 53 appearances for the club last season, scoring six goals, and received his first Australia call-up in March for their friendly against Ecuador in London.
And, after playing only 15 minutes of international football, Luongo became a surprise inclusion in Ange Postecoglou's squad, who start their campaign in Group B against Chile on Friday.
He is one of only two League One players involved in the tournament, along with Preston defender and Australia team-mate Bailey Wright.
But Luongo remains unfazed by the event and says his time as a youth player at Tottenham will serve him well during the tournament.
"Back at Tottenham I played with Luka Modric, Rafael van der Vaart, a few of the England boys, Younes Kaboul and a few more.
"It was basically an international set-up so to go into that, coming from Australia, that was massive for me and it really helped.
"I wasn't involved too much but the training was a great experience."
For the best of BBC Sport's in-depth content and analysis, go to our features and video page.