Rangers: Share issue the only viable option but a temporary fix

By Richard Wilson
BBC Scotland
Last updated on .From the section Rangers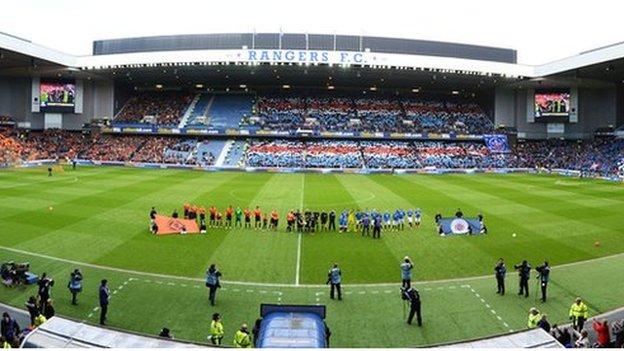 Finance remains the fundamental issue at Rangers.
One contingency plan has always been to seek additional funding from current shareholders, and a substantial drop in season-ticket sales merely exacerbates the problem.
When chief executive Graham Wallace published his business review last April, he indicated that if the uptake of season tickets was "materially less than anticipated" then the board would consider a pre-emptive offering of 43 million unissued Rangers International Football Club shares to existing shareholders.
That remains, for now, the only viable way for the business to raise additional funding.
With a new share issue proposed later this year, the price would be at a discount to the current market value of 27p and the intention is believed to be to generate in the region of £7m. This would go some way to covering any shortfall from a significant drop in season-ticket sales, and so allow the business to continue trading for the next 12 months.
Unanswered questions abound, though. Which shareholders, for instance, would participate?
Some individuals are suggesting that Laxey Partners would invest more money, along with Sandy Easdale, the chairman of the Rangers Football Club board. Others believe that the institutional shareholders, such as Hargreave Hale and Artemis, would not participate, given the sharp fall in the share price from its launch of 70p.
In the first instance, existing shareholders are normally offered enough additional shares to maintain the size of their overall stake. Any shares that are not taken up could then be offered to existing shareholders to allow them to increase their ownership stake.
It is also theoretically possible, though, for the board to place shares with specific existing shareholders, which could strengthen the power base of the group of aligned shareholders who currently effectively run the club. That would, though, be likely to agitate those left out and potentially cause further upheaval.
However, Easdale and his proxies could then be considered as acting as a concert party if their combined shareholding goes above the 29% threshold, and so expose them to takeover panel rules and regulations.
While a pre-emptive offering is restricted to current shareholders, their rights to participate can be acquired by non-shareholders. So while finance remains the fundamental issue at Ibrox, in that it underpins every substantial development, how the need for funding is addressed is also critical.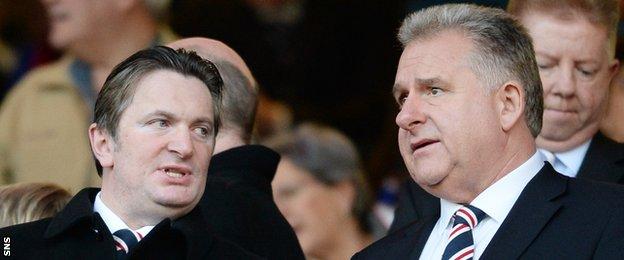 Control is at stake also. Laxey Partners are currently the largest single shareholder, while Sandy Easdale held the proxies for around 25% of shareholders at last December's annual meeting. Institutional shareholders supported the current board at the AGM, but the need for additional funding may alter their point of view.
Wallace is attempting to steer a course through the demands of financial issues and specific shareholder interests. There is no simple solution, beyond a radical change to the shareholder dynamic. That would only occur, though, if shareholders were prepared to sell their stakes or if a fresh rights issue was launched to the public.
In the meantime, the Rangers board need to ensure that the business can trade as a going concern for the next 12 months. When the interim results were released last March, they contained a note outlining that a fall in season-ticket renewals from last year's figure of 38,000 would affect the business's ability to trade as going concern.
Right now, Rangers are thought to still be considerably short of that. Short-term financial issues are at the forefront, but other intrigues also exist.
It has been possible to detect, within the noise around the club, a growing tension between Wallace and Sandy Easdale, who is not a member of the plc board. Wallace has the executive role, but Easdale, through his proxies, carries the strongest shareholder authority.
The flow of information is also a source of consternation to some within Ibrox, not least because talk of a share option is price-sensitive information and ought to be published first to the stock exchange.
Jostling for position is evident, although finance remains the key point, not individuals.
Dave King, the former Rangers director, wants to invest directly in the club. The South African-based businessman and Wallace in his business review both estimated that it will require £20-30m of additional investment to provide Rangers with the means to challenge Celtic for the Premiership title and compete again in Europe.
The only way to raise that kind of money would be a fresh public offering of shares, which is what King wants to participate in since his money would go directly to the club, which needs money spent on the football infrastructure - there is still no scouting network - and maintenance work at Ibrox.
King's intervention would likely lead to the dilution of the current shareholders, though, which is why an alternative route is being sought. The current squad, with one or two additions, ought to be good enough to gain promotion from the Championship, but to compete again with Celtic, Rangers need to be properly rebuilt.
There is a current shortfall to address, but that is only a short-term fix. For Rangers to compete at the highest level, a change in approach is required.