Jose Mourinho's wife talked him out of taking the England job
Last updated on .From the section 2014 Fifa World Cup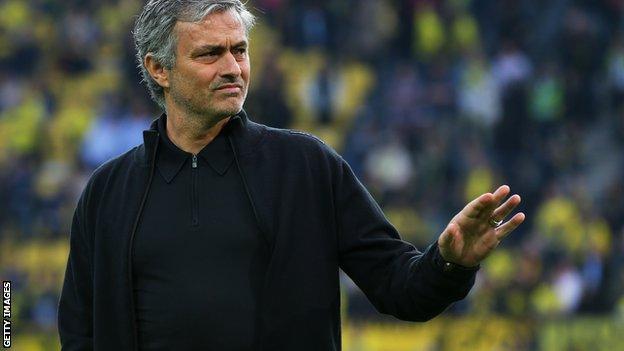 Chelsea boss Jose Mourinho claims he was close to becoming England manager in 2007, but his wife told him he would miss the busy routine of club football.
At the time, England had sacked Steve McClaren after failing to qualify for Euro 2008 and Mourinho's first stint at Stamford Bridge had ended in September.
"I was almost, almost, almost England manager." the Portuguese said. "My wife was right. She told me not to take it."
Mourinho eventually joined Inter Milan and Fabio Capello became England boss.
Asked how close he had come to becoming England manager, the 51-year-old held an imaginary pen inches above an imaginary contract and replied: "This close."
However, Mourinho added: "I cannot wait two years for a big competition. I cannot be spending two years playing against Kazakhstan and San Marino.
"In the end, my wife was saying, 'No football, no matches is not for you'."
Mourinho revealed that the English players at Stamford Bridge - such as Frank Lampard, John Terry and Ashley Cole - encouraged him to take up the role, but he has no regrets in turning it down.
"It was not the job for me seven years ago, it's not the job for me now, and I don't think it will be the job for me in seven years' time," Mourinho said. "Maybe in 15 years from now, but not seven."
Looking ahead to the World Cup in Brazil, Mourinho said it could be the tournament at which Wayne Rooney shines for England.
Rooney's former Manchester United team-mate Paul Scholes recently suggested that the 28-year-old could be past his peak, but Mourinho, who attempted to sign the striker last summer, remains a fan.
"Wayne is right when he says this is his World Cup," Mourinho said. "He's not a kid anymore and he's not an old player at the end of his career. He is in the best age.
"He also has a role as leader in the team, a little bit similar to the role he had at United this season. I think he is ready to cope with this pressure."
England begin their World Cup campaign against Italy on 14 June, followed by matches against Group D rivals Uruguay and Costa Rica.