Ellan Vannin lose Conifa World Cup final on penalties
Last updated on .From the section Football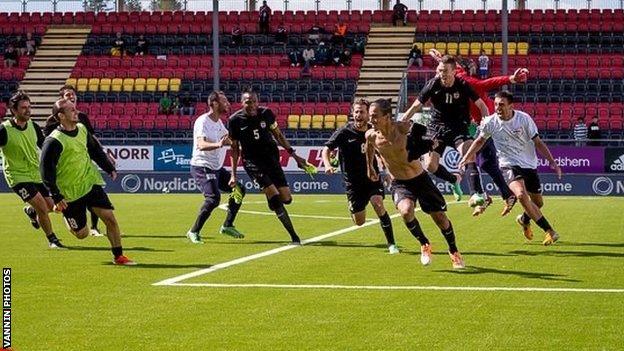 The Ellan Vannin football team have suffered an agonising shoot-out defeat to Countea Di Nissa FA in the final of the Conifa World Cup in Sweden.
The Manx side lost 5-3 on penalties after the teams could not be separated in normal time, with the match finishing goalless.
Team Ambassador Conor Doyle told MTTV: "We are devastated but extremely proud - we played some fantastic football."
The tournament is the inaugural world cup for non-FIFA nations.
It is the first international competition the Ellan Vannin side have contested and they won four matches to reach the final including a group victory over the eventual winners County of Nice (Countea Di Nissa FA).
The Manx men also recorded wins over Nagorno-Karabakh, Kurdistan and Arameans Suryoye.
"It was a cruel way to finish but we still haven't been beaten as a team in normal time," Doyle added.
"Every player can hold their head up high and know we have done the island proud."
The Isle of Man players also fundraised to help a team from Darfur compete in the tournament, contested by 12 teams from five continents.
A team spokesman said: "This competition has been about more than just football. It has been about culture and friendship and we have made some great friends and shared our culture across the world".
"We are absolutely delighted at the achievement of the players and management, both on and off the field," added Chief executive of the Manx International Football Alliance Malcolm Blackburn.
"They have been true ambassadors."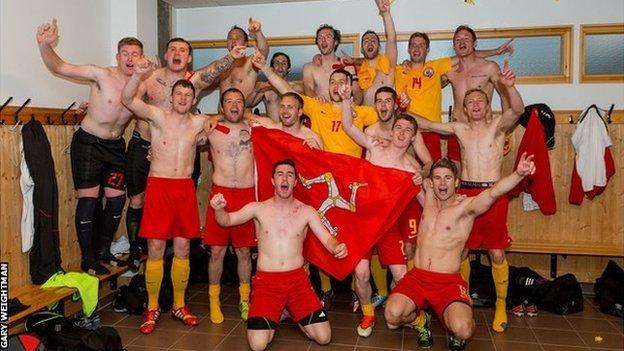 The Isle of Man were given odds of 250-1 to win the tournament before it kicked off in Östersund last week.
Watching from Douglas Peter Doyle, son of player Liam, said: "No one gave us a prayer before it started but they have been absolutely tremendous.
"To reach the final is an amazing achievement and the whole nation was behind them."
With a population of about 85,000, the island was competing against teams with much larger populations including Kurdistan with more than 35 million people.
All players representing Ellan Vannin - Manx for Isle of Man - were Manx either by birth or grandfather rights.