Celtic: Ronny Deila appointment is a risk worth taking

By Tom English
BBC Scotland
Last updated on .From the section Celtic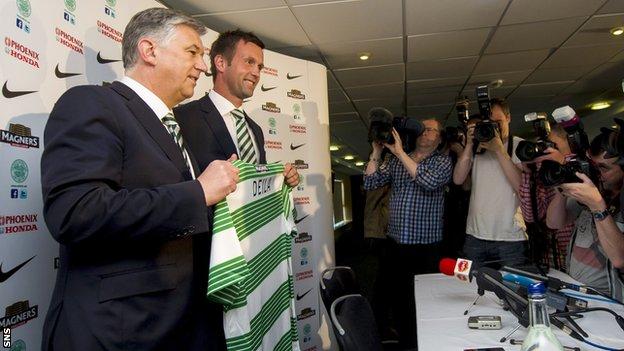 Given the plaudits that heralded his arrival, you half expected Ronny Deila to float into the room at Celtic Park like the cosmic force we've been hearing about in a whirlwind 48 hours.
During that period of time, the club's supporters and the nation's journalists hit the internet and the phone and crammed like A-level students in order to swot up on this mystery man's life story.
The more delving, the more accolades came tumbling out from all over corners of Deila's career. From friends, from former team-mates, from players he managed and from fans he bonded with.
Before we got a first sight of him as Celtic manager a little before 13:00 BST on Friday, he was compared with Jurgen Klopp, Brendan Rodgers and Mauricio Pochettino.
A young and progressive coach who believes in attacking football and who would rather win 5-4 than 1-0. An advocate of thrift who not only agrees with a sensible financial model but champions it. A finder and nurturer of rough diamonds, as Peter Lawwell, the club's chief executive, put it.

Deila was described as a "special, special man" by his assistant at Stromsgodset, David Neilsen, and a "living legend" by a representative from the Stromsgodset supporters' club, Marius Paulsen Andreassen. A rival manager, Kjetil Rekdal of Valerenga, called him "insanely good".
Vidar Riseth, the former Celtic player, said that his achievement in winning the Norwegian title with Stromsgodset last season was the equivalent of Kilmarnock beating Celtic to the Scottish Premiership.
Such homage has to be noted but also put in context. Tony Mowbray arrived at Celtic with a similar fanfare. He had won the Championship with West Brom. He had taken them to the semi-final of the FA Cup. He'd won the League Managers' Association Manager of the Year award in the English second tier.
Back then, there was also talk of rough diamonds and the mythical Celtic Way. Mowbray's philosophy was much like Deila's. Quick, passing football with the emphasis on pace and attack. It didn't work.
By contrast, Neil Lennon's own unveiling, as interim manager in Mowbray's stead, was almost low-key. Celtic were so spooked by the failings of Mowbray that they didn't give it the trumpet-blast when announcing his replacement.
They were unsure. But Lennon was the one who delivered on all fronts. He didn't make a song and dance about producing rough diamonds or playing great football, as his predecessor had done, but delivered anyway. He was a pragmatist. Mowbray was too much of a dreamer.
Nobody can know how Deila will pan out. The new Mowbray or a different version of Lennon? Everybody's guessing. So many have the confidence of ignorance in declaring him either a sure-fire winner or an unproven idealist who will drown in the goldfish bowl.
Only time will tell. But, in this footballing world, there is little time.
Judgments have to be made instantaneously, especially when it comes to Scotland's biggest clubs. People become experts overnight, utterly sold on received wisdom gathered in haste.
This is one of the things Deila is going to have to contend with. Everybody has an opinion and they won't be slow in giving him the benefit of it - square between the eyes if necessary.
The evidence of his unveiling tells us that the Norwegian looks pretty comfortable in the spotlight. He had never faced such a big media audience before, but he was cool and witty in the glare.
Quite obviously, he is ambitious and hungry and, for one so young - just 38 - he has commanded fierce loyalty and borderline devotion from his former players at Stromsgodset. That's an impressive thing.
That's a team that he created, of course. He built it, rescuing some failing careers in the process. No wonder they loved him. He made them relevant. He made them champions.
But Celtic are already champions and these players are largely Lennon's players, strong-minded and possibly resistant to change, as winning dressing-rooms can be at times. Deila has many challenges ahead, but the first one he has to win is the most significant - the respect of his new players.
Clearly his big mantra is about developing footballers and making them better. That and playing with pace and imagination.
At times during his media conference, he was in danger of over-stressing the importance of performance over results, as Mowbray had done before him in this very room, but he had the awareness to address that, too.
Right at the end, as a nod to the ultimate requirement in his new job, he said that performance without victory was no good.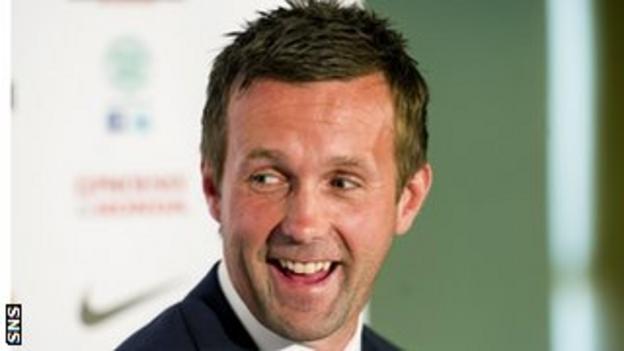 The Celtic Way, as in trying to play with the elan of the Lisbon Lions, is still spoken about. But the real Celtic Way is about winning, first and foremost.
That's one of the reasons Mowbray went wrong. Bizarrely for a former Celtic player, he never really understood the first law of Celtic Park - victory. The bells and whistles come second.
Lennon understood that better than anybody. He learned it from Martin O'Neill and Gordon Strachan.
Deila's appointment is merely a continuation of Lawwell's signing policy. Previously, it's all been about buying in unfamiliar and affordable players from outwith the big markets and then making them better. Now he's doing it with the manager in the hope that Deila turns out to be more Gary Hooper than Mo Bangura.
This is a good time for Celtic to think outside the box in appointing a manager. When Lawwell was asked 'Why Ronny Deila?', he would have been forgiven for simply replying 'Why not?'
Deila's appointment is an educated punt by the club, an imaginative gamble that's worth taking. They have breathing space right now.
Financially, they're in a good place. They don't want to get it wrong, but the ramifications would not be disastrous. They'll still win the league, they'll still have a shot at the lucre of the Champions League next time, they'll still be stable.
They can take a chance on Deila in the hope that he is, indeed, something special, a hidden gem that will take the club forward. Of course, to an extent, they've been forced into taking the chance because, as we know, he was not their first choice, though he may have been the first one they officially offered the job to.
His track record of success is brief and it happened in a relative backwater - not that Scotland is the big blue sea in all of this. It's a risk-reward situation and the risk is worth the potential reward if he develops into a Celtic manager of substance.