Exeter City: Tisdale will help club through cash crisis - Perryman
By Brent Pilnick
BBC Sport
Last updated on .From the section Exeter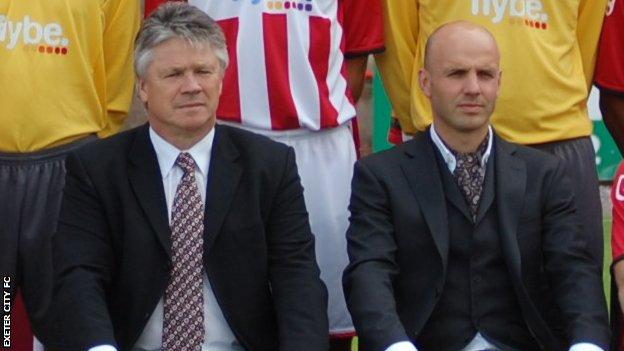 Exeter City director of football Steve Perryman is confident that manager Paul Tisdale will be able to guide the club through their current funding problems.
City are under a transfer embargo after
Tisdale will be
"Tis has been a magnificent manager and people need to be aware of some of the problems of managing a club like Exeter," Perryman told BBC Sport.
"He's the second longest-serving manager in the league, When he eventually goes - which he will do one day - I'm sure it'll be upwards.
"I've always said that Exeter City need a manager and magician to be able to take the club forward or to keep the club where it is," he added.
Exeter City are owned by the club's supporters through a trust, which means the club have to rely solely on football income to make money.
With the club having already cut Tisdale's playing budget for next season after lower-than-anticipated attendances, Perryman says the transfer embargo is another hurdle that the Exeter boss will have to overcome.
"If you have a transfer embargo, that's frustrating - when there are players available that you can sign who end up signing for someone else.
"We sometimes have to stand last in the line with a player who's wanted by four or five other clubs.
"We're not going to outbid anyone on wages so, eventually, if we sign that player it's because he's not been wanted by the other clubs.
"We can only sign certain players and that's the reason we're going to trust the home-grown players.
"It'll be interesting to see how that develops and how much the supporters get behind that team because that's what they're always asking for."
Exeter have already blooded many of their young players in the first team, such as defenders and Jordan Tillson, striker Ollie Watkins and who was named the club's Player of the Year for last season.
"Exeter City definitely have a positive future in front of it with this young talent," Perryman said.
"We just need some patience, some understanding and a reality check, which is probably what this loan has given us."