Robbie Keane happy to carry Republic's goal-scoring burden
Last updated on .From the section Republic of Ireland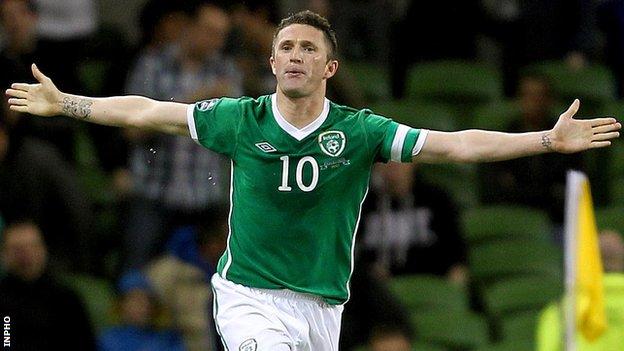 Robbie Keane insists he is happy to carry the burden of supplying the goals to fire the Republic of Ireland into the finals of Euro 2016.
Keane, 33, is set to win his 132nd cap in the friendly against Costa Rica in the early hours of Saturday and intends to keep on playing for his country.
And with the Republic's other strikers missing chances in recent matches, LA Galaxy striker Keane may get his wish.
"I'm excited to be here," said the man who has scored 62 international goals.
Keane is available for the Philadelphia contest against the Costa Ricans and next week's game against Portugal after not travelling across the Atlantic for the recent matches against Turkey and Italy.
Manager Martin O'Neill bemoaned missed chances in both games as his side were beaten at home by the Turks and then drew 0-0 against the Italians at Craven Cottage last Saturday.
The onus looks likely to be on Keane to provide the goals during the qualifiers which start in September but the veteran says he will relish that responsibility.
"It's the same pressure as I've had since I was 17, so that will never change," Keane told reporters in New Jersey on Thursday.
"I'm going to put pressure on myself, more than probably you guys do.
"We've got strikers in the squad who are quite capable of scoring.
"I know there's been talk about that, but as long as players are getting the opportunities, that's always good."
Keane joined up with the squad in New Jersey on Wednesday evening after they flew in from Dublin and trained with his team-mates on Thursday morning ahead of the Costa Rica game at the PPL Stadium in Philadelphia.
He has missed the last four internationals - against Poland because of injury and the Serbs, the Turks and the Italians - after being allowed to concentrate on his club commitments.
The captain freely admits he does not like sitting out games but now that he is back in the picture, he is desperate to be involved.
"Of course you want to be involved in every game, but under different circumstances," he said.
"That hasn't been the case, but I'm not going to worry too much about it.
"Of course you miss it, you certainly do, but I knew what the case was. I was going to come in for the two games."