World Cup 2014: England 'must embrace Ross Barkley's talents'

By Phil McNulty
Chief football writer
Last updated on .From the section 2014 Fifa World Cup786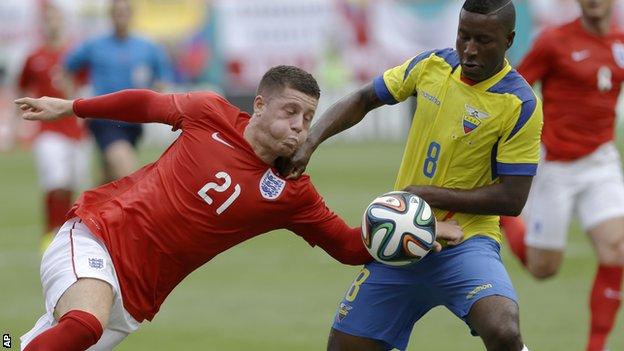 From Miami
England manager Roy Hodgson may have been indulging in a classic piece of expectation management as he sent an entire room the wrong way in his assessment of Ross Barkley's efforts against Ecuador.
Hodgson seems grimly determined not to allow over-excitement about anyone or anything play a part in England's World Cup build-up, which continued here in Miami with an eventful 2-2 draw.
Barkley's fearless running and sheer power was the highlight of a mixed England performance that also produced two disappointments in an injury to Arsenal forward Alex Oxlade-Chamberlain and a red card for Liverpool's Raheem Sterling.
Everton's 20-year-old prodigy had observers excited and Ecuador on the back foot with the surges that are fast becoming his calling card, especially when he set up England's second goal for Rickie Lambert.
And yet Hodgson, who is not actually a grumpy old man but sounded rather like one, placed surprisingly sharp focus on the faults in Barkley's game rather than the special moments he can produce.
"I'm not prepared to address your obsession with Ross Barkley," said Hodgson.
"He lost the ball an awful lot of times as well. If he's going to be the player we want him to be, he has to make better decisions of when he turns with the ball.
"That's not a criticism, but there were other performances out there today who merited your 'obsession' more than Ross Barkley's.
"Oxlade-Chamberlain and Phil Jones were outstanding, Jack Wilshere in the middle of the park and Rickie Lambert scored a magnificent goal."
Of course this is nothing new, indeed it is something of an old managerial trick. The late Sir Bobby Robson used it to good effect with Paul Gascoigne shortly before he made himself a global star at Italia 90.
Barkley has been compared to Gascoigne as a player and, with respect to Hodgson, should be celebrated as a talent with the potential to become a World Cup wild card for England.
Hodgson actually made some valid points about Barkley because his performance was not perfect. He does still gives the ball away too often and his decision making when it comes to making the pass needs improvement.
On the other hand, this is part of the package with young players who are maturing. There is, however, the lingering impression that Hodgson may just feel Barkley is too much of a gamble to risk from the start against Italy in Manaus on 14 June.
Hopefully the criticism was merely a public front from Hodgson because a rare talent such as this deserves praise, even if it is given in private, and to be talked about for what he can do rather than what he cannot.
Take the moment when he created the goal for Lambert. He took the ball and slipped it through the legs of Jorge Guagua with great awareness and skill. He waited his moment before putting the perfect pass in front of Lambert, who delivered the expert finish such approach work deserved. Made on Merseyside and scored in Miami.
At Everton, where it seemed former manager David Moyes could never quite bring himself to totally trust Barkley, manager Roberto Martinez has employed a strategy that was completely at odds with the public comments made by Hodgson at the Sun Life Stadium.
Martinez lavished praise on Barkley almost from the moment his car first pulled in to Everton's Finch Farm training headquarters. Last season he kept Barkley well away from Everton's own goal to lessen the risk of costly errors, those moments when his passing and decision-making may let him down, and left him free to roam in more dangerous territory.
He also insists if young players make mistakes then he will take the blame for putting them in. It has worked a treat with Barkley but Hodgson was certainly handing out more stick than carrot in Miami.
Hodgson used his current buzzword when he said there was now an "obsession" with Barkley 24 hours after complaining about a similar problem with Wayne Rooney.
Again there are similarities, as Rooney emerged from Everton's academy and first made an impact of the world's consciousness as a 17-year-old at Euro 2004. Barkley has the ability to do something similar in Brazil, especially with his occasionally unstoppable running when many games will be played at a slower pace.
The smart money will be on Barkley starting on the bench against Italy but he has demonstrated the more elite opponents hold no terrors and why should they?
He may struggle to occupy the place just behind Daniel Sturridge in England's first game because that is surely now back in the hands of Rooney and Hodgson may feel he simply cannot take a chance on Barkley's free spirit alongside Steven Gerrard.
Plenty would disagree and another display such as this when England play Honduras on Saturday will only increase the excitement as well as the pressure to start Barkley - not that Hodgson will be concerned about that.

One thing he will surely be happy about will be Rooney's 63-minute performance, working hard on the left flank and also scoring his 39th goal for England, putting him just one behind Michael Owen.
England are not yet good enough that they can do without Rooney at the World Cup and it would be a brave - and in my opinion incorrect - call should Hodgson consider leaving him out.
The sight of Oxlade-Chamberlain limping away from the Sun Life Stadium, albeit with at least a little optimism offered by the fact that he was not on crutches, was a real concern.
Not only is he a very popular young man within the squad, he showed against Ecuador that he has the pace and ability to trouble international sides.
Sterling's red card completed a strange spell for this gifted forward. There has been plenty of surprise, shared here, that he did not start against either Peru or Ecuador and now he will be suspended against Honduras.
Maybe, like the rather harsh words for Barkley, it was a psychological ploy, this time to keep Sterling out of public view of England's World Cup opponents but perhaps he was just a little too eager to impress when he came on, hence his reckless challenge on Manchester United's Antonio Valencia that ended with both sent packing.
As for Barkley, the secret is out. Hodgson and England should be glad to have him and he has the X-Factor about his game that could just make a difference in Brazil.