World Cup 2014: What to do about 'exceptional' Wayne Rooney?

By Phil McNulty
Chief football writer
Last updated on .From the section 2014 Fifa World Cup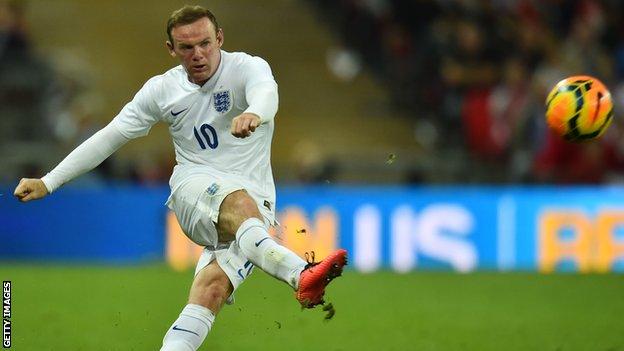 From Miami
As England manager Roy Hodgson sat in a locker room deep inside the Sun Life Stadium in Miami Gardens, a familiar name was dominating the conversation.
Hodgson calls it "an obsession" while others may prefer to simply regard it as having England's best World Cup interests at heart, but there can be no escaping the Wayne Rooney debate.
England's manager has cut a relaxed figure throughout preparations for the World Cup, mingling happily with guests, sponsors and the media, ready to discuss a range of subjects at a reception held in Miami on Monday evening.
But at the home of the Miami Dolphins as he discussed Wednesday's game here against Ecuador, there was a sign of irritation at the continuing - and it should be said justified - inquisition into the form and fitness of one of England's potential World Cup game-changers.
Against Ecuador, Rooney is likely to be the only player retained from Friday's starting line-up for the win against Peru at Wembley as Hodgson continues with his plan to have Manchester United's striker in prime condition for the opening World Cup game against Italy in Manaus on 14 June.
And Rooney may well be deployed on the left flank - a role he has claimed in the past curtails the expression in his game. However, his lack of match practice since suffering a groin injury late in the Premier League season means he is likely to grasp at any chance, in any position, to improve his fitness and show the quality that will end debate about his right to start against the Italians.
Rooney has almost became a special case ahead of major tournaments because of injuries and suspension but the topic is even hotter here in Miami because this is likely to be his last chance to show his undoubted class at a World Cup.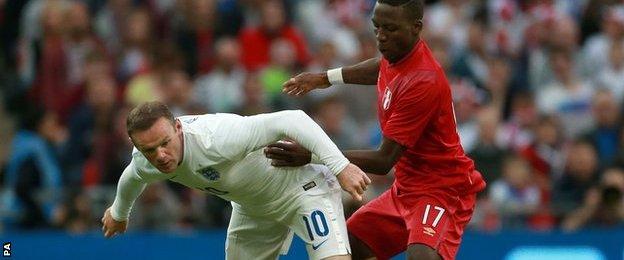 Hodgson's determination to portray Rooney as simply one member of his 23-man squad even led to a point-blank refusal to agree to the description of Rooney as an "exceptional" player - although it was a tag he later applied willingly to Liverpool's Raheem Sterling.
Logic - and it is an opinion shared here - suggests no case has yet been seriously presented that England would be a better team without Rooney than with him.
Would Italy's players be happy to glance across the tunnel at their opponents in Manaus and not see Rooney among the starters? You suspect they would.
Rooney took a full part in training in Miami on Tuesday, where temperatures at pitchside were 27C just after 10am and large fans were placed at the side of the surface to keep England's backroom and support staff cool.
The conditions were perfect for England's needs after they were driven inside for a portion of their session on Monday when storms hit Miami at the start of its hurricane season.
Rooney will be at the centre of the action again on Wednesday - but it may yet be in a role that is not exactly to his liking.
Hodgson said: "There is a real obsession with Wayne which I don't necessarily share. You relate back to World Cups in the past and episodes in the past but Wayne is one of my 23 players and I'm very happy to have him here.
"I don't have to share that obsession that he has to play here or he has to play that role. As far as I'm concerned I look at the players at my disposal and decide what they need, what we need and then I expect them to do it."
And in answer to that "exceptional" question?
"The fact is, with respect, you [the media] make him an exceptional player when you want to make him an exceptional player and then when you want to make him a player that you don't think should be in the team, you do that as well.
"You're saying he's an exceptional player. I'm not saying if he's exceptional or not. I have picked him because he is a very good player and I think it's wrong of you, quite frankly, to suggest you use words about him and you either want me to refute them or agree with them. I don't think you should put me in that position.
"I am not here to talk about Wayne Rooney, the person that you decide you want to talk about all the time. I am only prepared to talk about Wayne Rooney as one member of my squad and a player I hope will help us have a good World Cup.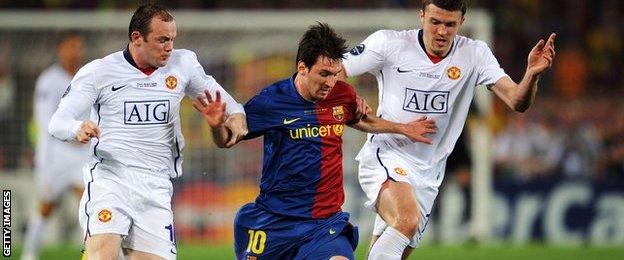 "How do I answer the question? If I say he is exceptional, or no I don't think he's exceptional, I'm wrong either way. He is a football player. I like to use him."
Of the intrigue over where Rooney ends up playing on Wednesday, Hodgson said: "Wayne can play in several positions. He'll play in a position we think will suit the team and which he is capable of playing."
And Hodgson clearly feels he has the capability to play on the left, saying: "He can do that, absolutely. I think Wayne's a very useful player in the sense you don't have to pin him down and 'this is the only position he can play.' He can play centre forward, behind the centre forward and wide."
The truth for Hodgson, and England, is that this episode will run and run until Rooney produces the displays that will banish any questions about whether he is worth his place in England's starting line-up amid the crop of new young exciting talent.
Hodgson - and Rooney - will hope the process starts against Ecuador in the Sun Life Stadium.