Football League clubs to discuss B-league plan at AGM
Last updated on .From the section Football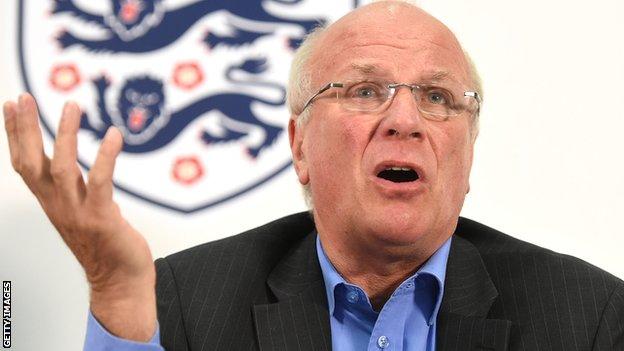 Football League clubs will meet in Faro, Portugal on Thursday for their Annual General Meeting, where the issue of B teams will be top of the agenda.
A Football Association commission, including chairman Greg Dyke, proposed a new tier with Premier League B teams.
The proposal to introduce a league between League Two and the Conference is an attempt to increase the number of home-grown players in the top flight.
It has already drawn strong criticism from several Football League clubs.
Portsmouth chief executive Mark Catlin is among those opposed to the proposal and says English football should not be tricked into copying a similar model in Spain.
"I lived in Spain for 10 years so I had first-hand experience of how the league structure works out there," Catlin told BBC Radio Solent.
"I think it is really easy to get carried away thinking the Spanish model is the Holy Grail of what we should be following.
"Below La Liga, it's in complete disarray. I used to go and watch third-tier games out there and you were lucky if you had 500 people there. A well-attended fourth-tier game has maybe 300 people turn up.
"Is that really the model we want to be following? It's all very well latching onto the fact that at this moment in time it's a golden era for Spanish football. People have to remember they only won their first World Cup in 2010.
"It's a bit dangerous for us to change our whole league structure and effect the integrity and independence of our league based on the success of a few years for the Spanish national team."
Only 32% of starters in last season's top flight qualified to play for England, compared to 69% 20 years ago.
The FA commission set up to address the problem also called for a ban on non-European Union players outside of the top flight, the development of "strategic loan partnerships" between clubs, as well as a reduction in players in Premier League squads who were not home-grown.
"I do worry," added Catlin. "The Football League is a democracy and you have to go with what the democracy wants but I will be arguing strongly against the introduction of B-teams into our league or cup structure. It's an extremely dangerous route to go down."
Other League One and Two clubs have been critical, with Peterborough chairman Darragh MacAnthony previously saying the proposal "can't be allowed to happen".
Among other things that will be discussed at the AGM are the use of artificial '3G' pitches, while the Football League will also present an alternative proposal to Dyke's plan to incorporate Premier League B teams in an expanded Johnstone's Paint Trophy to include a group stage.