Hereford United winding-up case adjourned for 28 days
Last updated on .From the section Football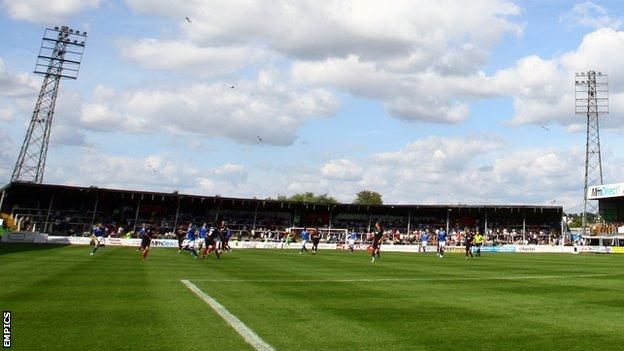 The winding-up petition brought by ex-Hereford boss Martin Foyle against the Bulls has been adjourned for 28 days.
Club officials have been trying to negotiate a settlement with 51-year-old Foyle, now the manager of Southport, for money owed when he left in March.
Having failed to reach an agreement, the Bulls had hoped for an adjournment at the Royal Courts of Justice.
And that 28-day adjournment was duly granted when the case was heard in London on Monday morning.
A statement on the club website confirmed: "The adjournment will give both sides time to continue negotiations."
The Football Conference are scheduled to hold their annual general meeting on Saturday 7 June, when the 2013-14 season will deemed to be officially over.
Conference general manager Dennis Strudwick has told BBC Hereford & Worcester that the club will still need to make a full, viable budget submission for next season, as well as provde proof that they have made all outstanding payments to their football creditors, which included some of their playing staff, by the end of this week.
Bulls chairman David Keyte is reported to have been in talks with three different rival bidders regarding a takeover.
Although a club statement was released on Thursday saying that the consortium of investors involved in trying to take over at Edgar Street had begun the process of payments to the Bulls' football creditors, nothing has been resolved. And the club are also overdue with their latest PAYE tax demand.
Hereford's visit to London on Monday was the third time in four months that the Conference Premier club have faced being wound up.
In both previous cases, brought by Revenue and Customs (HMRC) over unpaid tax bills, the club found the funds to avert being taken to court.
But this time no agreement was reached with Foyle, who brought the action over not only unpaid wages but other monies that he claims he is owed.
The hearing took place at the Royal Courts of Justice, where Chester City were the last English professional football club to be wound up in February 2010.
Chester FC, who were formed following City's liquidation, had been interested spectators in the outcome.
Having gone down instead of Hereford on a dramatic final day of the Conference Premier season just over a month ago, they had hoped for a reprieve.
Meanwhile, it has been confirmed that Bulls director Dave Preedy has chosen to step down from the Hereford board.