Reading: Sir John Madejski confirms Anton Zingarevich exit
Last updated on .From the section Football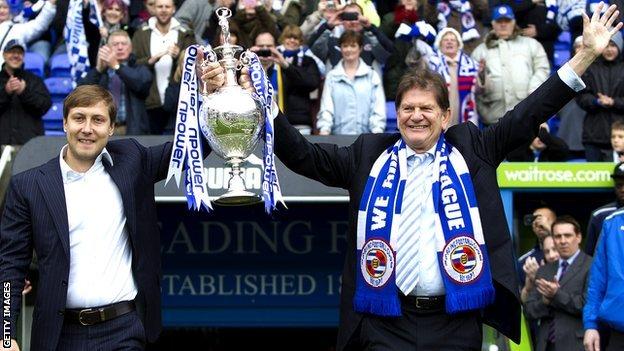 Reading chairman Sir John Madejski has confirmed majority shareholder Anton Zingarevich has left the club's board.
Zingarevich bought 51% of Reading in May 2012 and had been due to complete a full takeover in October last year.
However, the Russian pulled out of the deal and the club have been looking for new investment ever since.
"There has been plenty of interest but no firm offers," Madejski said in a statement.
Christopher Samuelson and Andrew Obolensky of Thames Sports Initiatives (TSI) have also left Reading's board as talks continue with potential new owners.
Israeli entrepreneur Teddy Sagi, who made his fortune in gaming software, and Indian businessman Mohit Burman, who is part-owner of IPL cricket team Kings XI Punjab, are reportedly interested in owning the Championship club.
American investors have also shown an interest, including billionaire Joshua Harris.
Madejski recently admitted new investment was critical, while striker Adam Le Fondre was sold to Cardiff City last week to help pay an outstanding tax bill to HM Revenue and Customs.
However, Madejski allayed fears that the Royals were close to administration.
"It is imperative there is no rush to judgement and that we take the necessary time in choosing the right person for the future of Reading Football Club," he said.
"While there is no takeover with any new investors, the process is ongoing. I would like to take this opportunity to assure our fans that the club is secure going forward."
Since Zingarevich became involved with the club in January 2012, Reading have been promoted to the Premier League and relegated back to the Championship.
Promotion to the top flight in 2012 earned the Royals an estimated £90m, with half of that money coming from television-related revenue, but they missed out on an immediate return to the Premier League this season.
Zingarevich did not attend a single game in 2013-14, with Madejski resuming 'day-to-day' control in February.
The Berkshire businessman, who it recently emerged had lost around £300m of his near £400m fortune, has been chairman of Reading since 1990 and is determined to find the right person to take over the club this time around.
"I will try not to make the same mistake again - a buyer who does not see the whole thing through," Madejski told BBC Radio Berkshire in February.
"Anyone who gets involved in football has got to have a big heart. Clearly we need someone with deep pockets. Any club does."