World Cup 2014: England players told to sing anthem

By Phil McNulty
Chief football writer in Miami
Last updated on .From the section 2014 Fifa World Cup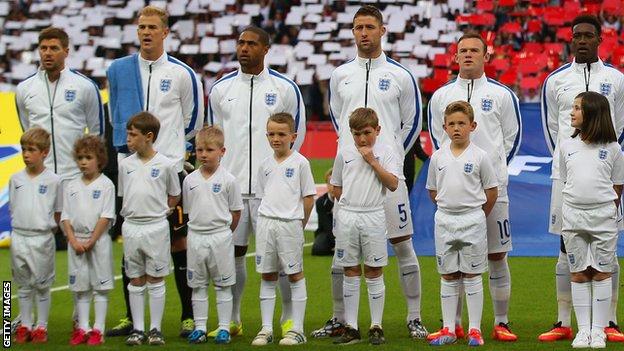 England manager Roy Hodgson expects his players to show pride at representing their country by singing the national anthem at the World Cup.
Hodgson wants his squad to demonstrate their patriotism when "God Save The Queen" is played at games in Brazil.
"You very rarely play against opponents and they haven't got their hands on their hearts and singing their anthem as loud as they can," said Hodgson, 66.
"We made the decision very early on to do what every other team does."
England flew to Miami on Sunday as they step up their preparations ahead of their World Cup opener against Italy in Manaus on 14 June.
Hodgson's team play two friendlies in the United States this week, facing Ecuador on Wednesday before meeting Honduras on Saturday.
"We are proud to be England players and, in my case, England manager, so when the national anthem comes up it's an obvious one for me that we sing it," added Hodgson.
"Perhaps we need to remind the players as the squad has changed so much. If they all sing it, I don't know. It's not something I've checked on. But I hope they will."
Hodgson, whose team have also been drawn alongside Uruguay and Costa Rica in Group D, is pleased with how England are progressing ahead of the finals.
In their final home friendly before leaving for Miami, England recorded a convincing 3-0 win over Peru on Friday.
Hodgson said: "I've been very happy with the two training camps and I was very happy with the way the players took that work that we've been doing into the game on Friday.
"I'm delighted, too, that we won it. I couldn't give any other answer than that I am very happy with where we are.
"But I'm wary, too, about stating an obvious thing and giving an honest answer, because sometimes that can create enormous headlines and I'm not here to do that.
"We've still got a lot of work to do. There are two more weeks before we play Italy, two more weeks of work to put in, two more weeks for players to keep their form, improve their form, knock on the door even louder and I'm looking forward to that.
"I would be lying if I said these two weeks have gone anything other than exactly as I wanted them to go. We'll see what the next two weeks bring."