Hereford United & Martin Foyle fail to reach agreement
Last updated on .From the section Football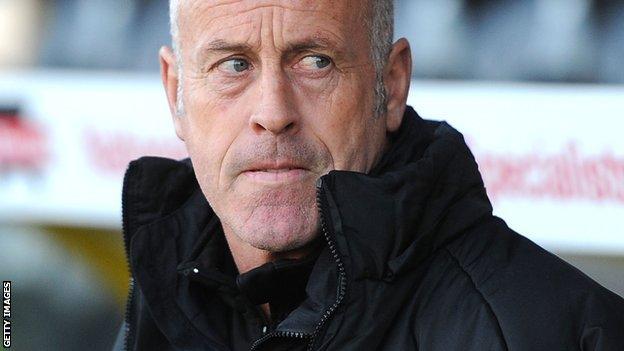 Hereford United face a winding-up order in court in London on Monday morning after failing to reach an agreement with former manager Martin Foyle.
But the two parties were unable to reach an agreement, leaving the Bulls hoping for an adjournment at the Royal Courts of Justice.
It is the third time in four months that they have faced being wound up.
In both previous cases, brought by Revenue and Customs (HMRC) over unpaid tax bills, the club found the funds to avert being taken to court.
But this time no agreement has been reached with 51-year-old Foyle, now the manager of Hereford's Conference Premier rivals Southport, who brought the action over not only unpaid wages but other monies that he claims he is owed.
The hearing is due to take place at the Royal Courts of Justice in The Strand on Monday, 2 June.
Chester City were the last club to be wound up there in February 2010.
Chester FC, who were formed following City's liquidation, went down instead of Hereford on a dramatic final day of the Conference Premier season just over a month ago.
The Blues will now be interested spectators on Monday morning as, until the Conference have held their Annual General Meeting on Saturday, 7 June, the 2013-14 season is not officially over - and any punishments handed out could still involve an automatic penalty for going into administration and potential automatic relegation for the Bulls.
Hereford United Supporters' Trust, who made an offer to buy the club a month ago, say they are extremely worried about the position that the club finds itself in.
Bulls chairman David Keyte is reported to have been in talks with three different rival bidders regarding a takeover.
But, although a statement was released on Thursday saying that the consortium of investors involved in trying to take over at Edgar Street had begun the process of payments to the Bulls' football creditors, including their playing staff, nothing has been resolved. And the club are also overdue with their latest PAYE tax demand.