Tony Stewart: Rotherham 'can definitely reach Premier League'
Last updated on .From the section Football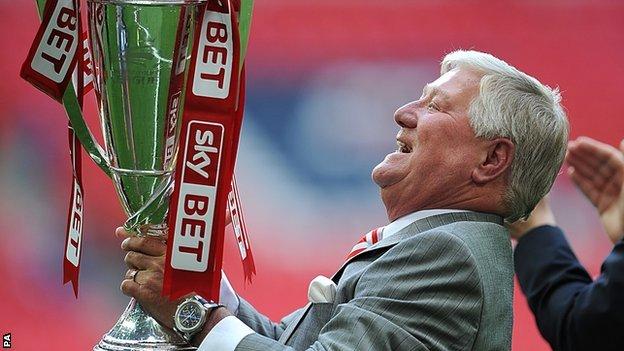 Chairman Tony Stewart believes Rotherham are destined for the Premier League following their promotion to the Championship last season.
He told BBC Radio Sheffield: "It will be when, not if, definitely.
"Hull have done it, smaller clubs have done it. We're going to do well this season, I'm looking forward to it."
Speaking after manager Steve Evans, who has guided the South Yorkshire club to two promotions in two seasons, signed a new three-year deal at the New York Stadium, Stewart said he would continue to give the Glaswegian "the tools he needs to do the job".
He continued: "We work as a partnership and we'll continue to do that. There's no mysteries, we talk every day. The communication is good and our ambition is the same.
"When we get in the Premier League, I'll feel I will have achieved a lot more and I think Steve feels the same.
"You get a band of brothers, like we have, and Steve waves his magic wand, and who knows what can happen.
"Being Yorkshire people, we have to get value for money - good players who want to play for Rotherham, who show the motivation."
A former lighting salesman who bought the club in 2008, Stewart said he was confident Evans's acumen would enable Rotherham to compete with bigger and much better-funded clubs.
"It's not a level playing field in the Championship; the parachute payments make a significant difference, but we'll still give them a game," added Stewart.
"The Wolves chairman Steve Morgan told me Wolves conceded 31 goals last season and that Rotherham had got seven of them. Money's not the be-all and end-all. Things like spirit and drive compensates for things like money."
Meanwhile, Stewart is already considering expanding the New York Stadium.
"We need to maximise our potential," he said. "We can lift the capacity from 12,000 to 16,000 and on to 20,000, so we'll be monitoring the response from fans.
"We're going to change the face of Rotherham at the stadium and around it. I've worked in the town for over 30 years and it is nice to put something back."