Ryan McLaughlin eager to take Northern Ireland chance
Last updated on .From the section Football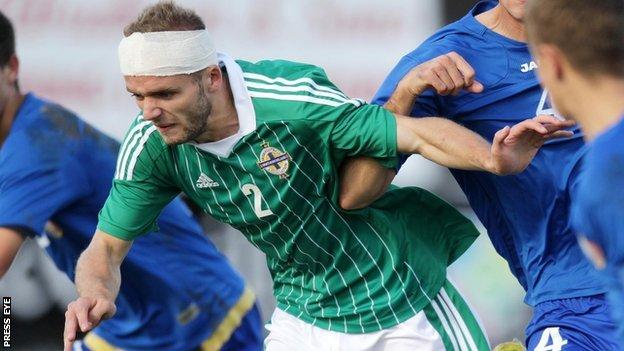 Ryan McLaughlin is expected to make his Northern Ireland debut against Uruguay after ending any doubt about his international commitment.
Last summer he asked not to be considered for international duty and it was feared that he was thinking of defecting to the Republic of Ireland.
"When previous international breaks were on, the Liverpool first team were having games behind closed doors.
"I thought it was best for me to stay and concentrate on that," he said.
McLaughlin has yet to play competitively for the Reds and his senior career to date comprises nine games on loan to Barnsley last season.
"I didn't think I would play much for Northern Ireland and Brendan Rodgers was there, so I thought it was a brilliant opportunity for me," added the 19-year-old.
McLaughlin is highly-rated by the Irish Football Association and was earmarked some time ago as a candidate for Michael O'Neill's first team.
He accepted a call-up for Friday's friendly in Uruguay and the June 4 date in Chile, and was quick to confirm he had never intended following the likes of James McClean in declaring for the FAI.
"I'm a catholic from Belfast and people think I probably supported the Republic as a kid. They then maybe think I'm not playing because I want to switch to the Republic," he said.
"They have a right think that because players have done it in the past, but I met Michael O'Neill face-to-face and I told him my reasons.
"I know supporters will be paranoid about it but I have no problem with that because I understand where they are coming from. People will believe what they want to be believe but that was the truth."
O'Neill always remained confident that McLaughlin would return to the fold when the time was right, but the player himself declined to speak publicly on the subject due to his own lack of profile.
"I'm a nobody. I haven't done anything in the game to be coming out and making big statements so I just left it to whatever Michael O'Neill said," explained the defender.
"I was 18 and didn't want to make any statements. I think it would have been embarrassing for me to come out and make all sorts of comments."
While Northern Ireland struggle for options at right-back, the same cannot be said at Liverpool, where McLaughlin faces the task of competing with Glen Johnson, Jon Flanagan and Martin Kelly.
Nevertheless, he feels the Reds' Champions League qualification might help open the door.
"Liverpool are in so many competitions next season so hopefully I will get a chance because we will have to rotate the squad a bit," he said.
"The manager has shown he will take a chance on young players. Look at how Jon Flanagan came out of the blue under Brendan and took his chance.
"I know where I want to be and that is Liverpool. I will set my goals high; I want to make a name for myself at Liverpool and do well for the club."