Hibernian: Relegation 'not a financial disaster for club'
Last updated on .From the section Football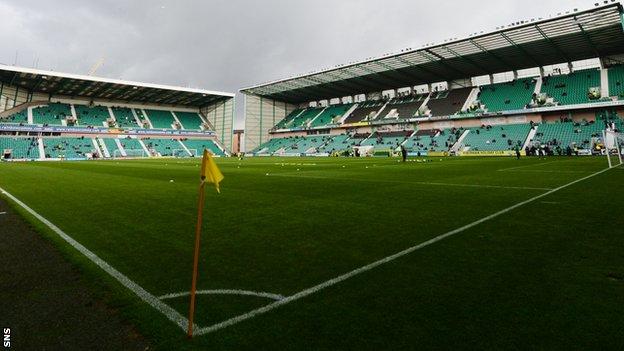 Hibernian will not lose money as a result of their relegation to the Scottish Championship, according an expert in football finances.
David Glen, of PriceWaterhouseCoopers, says the fact Rangers and Hearts are also in the second tier will soften the financial blow Hibs suffer.
"I don't think they will [lose money]," Glen told BBC Scotland.
"They will have Rangers gate receipts and Hearts gate receipts and that will keep them going."
The Easter Road side were 2-0 up against Hamilton Academical from the first leg of the play-off final, but lost 2-0 at home in Sunday's second leg, and a penalty shoot-out sealed their fate.
But Glen believes the doom and gloom on the pitch will not necessarily be reflected in the club's accounts.
"The bulk of the club's income comes from ticket sales," he added.
"And given that you're going to have three of the five best supported clubs in Scotland in that league, and it's going to be one of the most competitive leagues across the UK, also the Edinburgh derby, we're in for a very unusual season financially, never mind what we're going to see on the park.
"Generally what happens when a club is relegated from the Premiership to the Championship, we've seen their income fall by about £1m.
"That's only part of the equation as the other side is their costs. Their biggest cost is the players and generally it's written into their contracts either that players' wages will fall, or players leave, and generally they try to cut their cloth equally.
"To be fair to Rod Petrie (chairman), he's always run a tight ship at Hibs, and they have generally been breaking even of late.
"For Hibs, up until July 2013, it was an £8m turnover. They had costs of just shy of £4m in terms of wages, and they made a very small profit of £100,000. Generally, they fill the gap by selling players and Hibs have done very well over the years, building up players and selling them on.
"That has got the fans' backs up a little bit because they've not got the squad in tact, therefore you might actually get another bounce from that, given they're probably going to have a clearout over the summer and that will help them get through this."
A greatly-improved parachute payment from the Scottish FA will also help, with a funding package of £500,000 in the first season for a relegated club and £250,000 in the second season in the event of them staying down.
Glen, however, believes a bad start to the Championship campaign could hit Hibs hard off the pitch.
"It really depends how well the season kicks off and if they're up there fighting in the first, second or third slot," he said.
"Any sign of a bad season, any sign of the fans walking away, that's really going to hurt."