Arsenal: Jens Lehmann warns Aaron Ramsey over injury absences
Last updated on .From the section Football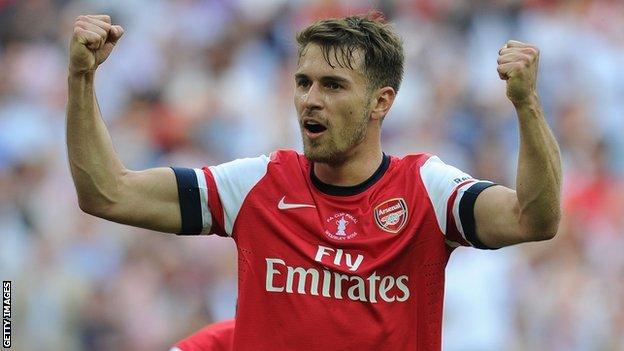 Jens Lehmann believes it is too early for Aaron Ramsey to consider a big money move to a major continental club.
The ex-Arsenal and Germany goalkeeper says the Gunners' Welsh midfielder was "surprisingly fantastic" in 2013-14.
But Lehmann says Ramsey, 23, should only move to a club such as Bayern Munich if he can stay injury free.
"I think it's a step too early because he himself has to make sure that he can be available for a whole season," said Lehmann.
Ramsey has scored 27 goals in 184 Arsenal appearances since joining them from Cardiff City in 2008. But 16 of those strikes came last season.
He has also captained Wales, having made 32 international appearances and scored nine goals for his country since making his international debut against Denmark in 2008.
Ramsey has been linked with Bayern and Barcelona and is one of Wales' most-talked about players alongside Real Madrid's Champions League winner Gareth Bale.
But the Caerphilly-bred player suffered a broken leg in February 2010 and returned with Arsenal's reserves in November that year.
Loan spells at Nottingham Forrest and Cardiff followed before a 2011 Arsenal comeback beckoned.
His progress since has been dogged by a series of niggles and he has admitted it took him years to regain his confidence.
Ramsey was outstanding as Arsenal were among the Premier League front-runners during the first half of 2013-14 season.
But a thigh injury ruled him out from Boxing Day until April and Arsenal's title challenge fell by the wayside.
In May, Arsenal fans were left with a glimpse of what might have been when Ramsey scored a stunning FA Cup final winner against Hull City.
Lehmann says while Ramsey's talent is plain to see, he must work to avoid injuries that prevent him being regularly available.
"Ramsey was a surprisingly fantastic server of the club because when you've looked at the seasons before, he was good, but not that outstanding," said Lehmann, who retired in 2010.
"And all of a sudden he knew how to score; he found the goal quite often.
"Unfortunately - and that's what he has to work a lot on - he got injured again.
"And when you want to become a world class player, the first thing is that you're always available.
"But when you're not always available you can be as good as you want, but you will lose your rhythm and, slightly, your physique.
"And that's what Arsenal can't have with Aaron because Aaron was such a great character and talent that he has to be available all the time."
Lehmann believes Ramsey could fit into a club like Bayern.
The German, who was speaking to BBC Radio Wales, added: "There are some really great clubs and only probably 100 top players.
"So when you want to be a top player you need to try your luck somewhere else and you want to find out if you can manage to be successful somewhere else as well.
"But so far I think it's a step too early because he himself has to make sure that he can be available for a whole season."