Hamilton's promotion joy contrasts with Hibs' despair

By Tom English
BBC Scotland
Last updated on .From the section Football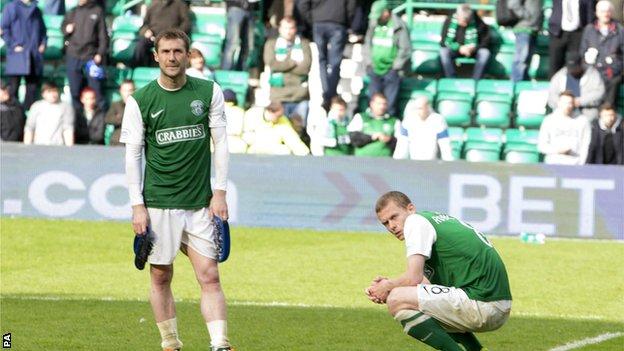 Before the drama of the penalty shoot-out, Hibs deployed one last desperate act to galvanise their team and lift them out of the competitive coma they have been in for so long.
At the mixing desk, they put on The Proclaimers. That was about the height of their defiance. A song from the most famous Hibees. A plaintive attempt to breathe life into a demoralised side.
It didn't work, it didn't deserve to work. And it was surreal.
Terry Butcher described it as a car crash. He said it was his worst moment in football and that was before the guttural roars of an incensed support started ringing in his ears.
The home fans gathered in numbers outside the front of the stadium chanting condemnation of Rod Petrie, the chairman, and Butcher, the diminished manager who must be ruing the day he walked into this maelstrom, this club that has for so long been a shadow of what it can be and what it ought to be.
Butcher had a nice life in Inverness. He had a team that wanted to play for him and a position in the league ahead of all others bar Celtic when he moved on.
He had made his mark on the history of that football club and now he's made his mark on the history of another. Two different stories; two different men, in effect.
One, a wise-cracking and respected boss of an over-achieving team; the new incarnation a haunted figure who has grown more hangdog as the months have gone by.
Hibs had it in their own hands before this match. They were more rested than Accies coming into this play-off. They had a two-goal lead going into the second-leg.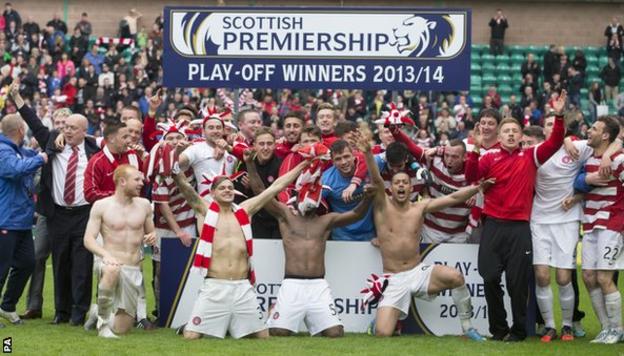 They had home advantage. Even when the penalty shoot-out began, it was staged down the Hibs end rather than in front of the visiting support.
Everything was against Alex Neil's side, but they rose above it. Neil, their player-manager, has pulled off a huge feat of management and, in the aftermath, his players lined up to pay tribute.
No wonder. Their football will be a welcome addition to the Premiership.
Hibs are a bigger club with a bigger support and a bigger appeal to the bigger league and its television partners. But, in playing terms, they are prehistoric, trapped in a dark age of hoofball.
Throughout this match, you sat back in wonder at how poor they really are, how lacking in the basic tenets of passing. Butcher has to take much of the responsibility for that. They have gone backwards rapidly on his watch.
But this, of course, is not all at Butcher's door. The chickens came home to roost for all at the club, not just the manager. True, the endgame was played out here, but they have been a team in crisis for four years minimum.
Some - many - among their supporters would say that they have been on the slide for a lot longer than that. They have flirted with danger for so long and nothing has really changed.
Petrie never heeded the warnings. He built the infrastructure and did it brilliantly. But he fell asleep at the wheel in building the team.
All the wretched decision-making was writ large over Easter Road. The accumulation of so many poor players. The recruiting of a manager who has done nothing to arrest the collapse. The thorough nature of their defeat on the day. Accies might have had to wait for penalties, but they were better in every area from first minute to last.
They're a small club with a modest support and won't float the boat of any television executive. But, when they won the shoot-out, you felt like standing up and applauding. One of their number said later that he intended to celebrate this huge achievement by going out and getting "blootered".
Some drink to remember. Others, like Hibs, drink to forget.
The Proclaimers fell silent on the Tannoy. It might not be 500 miles to Palmerston Park in Dumfries or Recreation Park in Alloa, but that is where Hibs are going next season. To Queen of the South and Alloa and Dumbarton and Livingston and Raith Rovers.
To Tynecastle and Ibrox, too, of course.
The Championship has now become the marquee division in Scotland, the place where so many of our Saturdays and Sundays will be spent come the new season. The television companies will be scratching their heads. Their box-office teams are dropping like flies out of the top flight.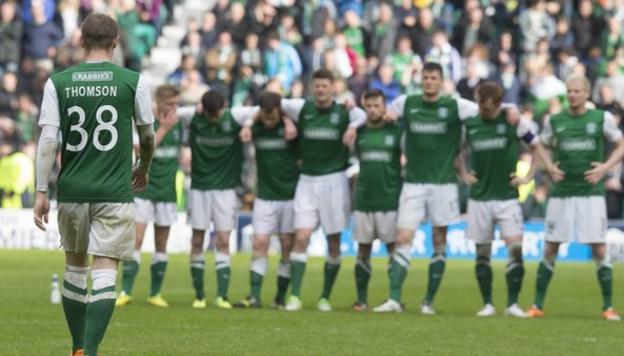 On a day of many memorable images, there was one that springs to mind. Minutes before the end of normal time, and with his side clinging to a 2-1 lead like a man hanging from a cliff-top, Butcher walked to the edge of his technical area and started flapping his arms madly, like a big old bird attempting to take flight.
Flap, flap went Butcher and flap, flap went Butcher's players. Flap went his defenders as they hoofed the ball clear with the composure of men whose trousers were on fire. Flap went his midfielders and his strikers, devoid of confidence and any semblance of leadership.
This has been the way of it all season. Those panic-struck moments were the year - the era - microcosm. A flapathon.
Hibs were tired and nervous and vulnerable to the vultures in the visiting side, the hungry and unrelenting Hamilton Accies. Four minutes of added time went up on the board. You have no idea how long four minutes really are unless you were a Hibee in this horror show. It's an eternity.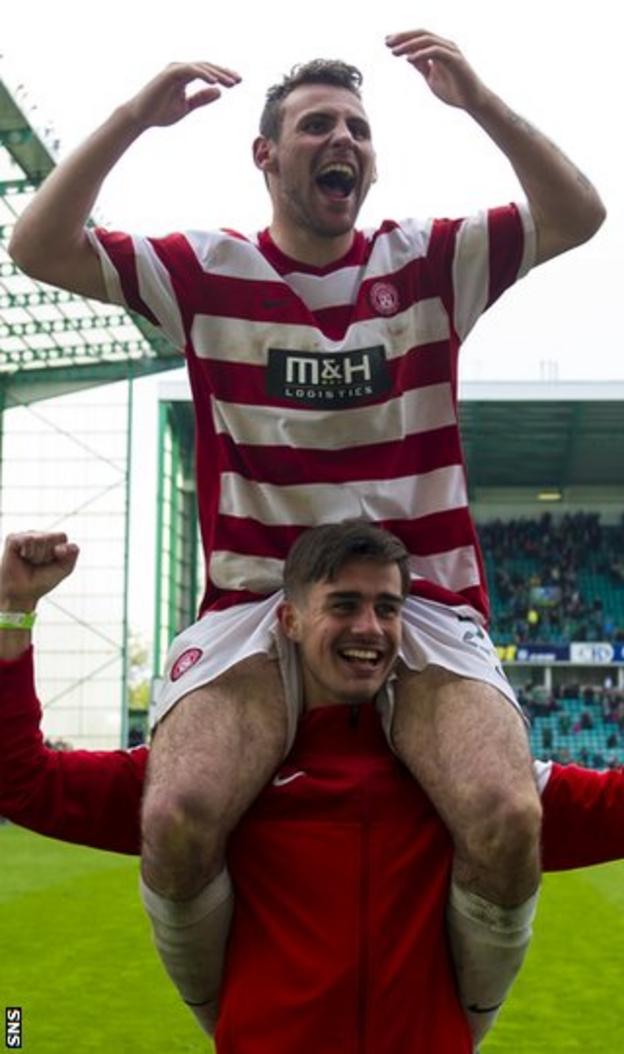 Four minutes from salvation. Then three, then two. Then, the equaliser. Pace, ambition, accuracy and skill got Accies level in the most dramatic way.
Down the left they went. Ziggy Gordon - a boy of 21 and immense all afternoon. Jason Scotland - such a presence and an influence. And Tony Andreu - a goal threat all season. Coolness under pressure, that's what they delivered. Brilliance when it was needed. Andreu's finish was impossibly composed and riotously celebrated.
It was also thoroughly just. Only one side played football in this match. Only one side displayed craft and character. Hibs the institution, with its storied past, will be a dreadful loss to the Premiership, but the team they've been putting on the park for the longest time is no loss.
Accies exposed them for what they are, just as many others did before them.
Maybe this is the wake-up the club's hierarchy needed. Maybe they required the torment before the reality sat in. At 7.45pm, some of the Hibs players walked from the dressing room and made their way across the pitch to exit the stadium, where a reception committee lay in wait.
The language was passionate and industrial. No hiding place.
The headlines will be dominated by their demise, but the day belonged to the visitors - the newly promoted and thoroughly deserving Accies. They were serenaded out of Easter Road and rightly so.
Heroes to a man - and boy.