Celtic: Henrik Larsson committed to Falkenberg

By Richard Wilson
BBC Scotland
Last updated on .From the section Football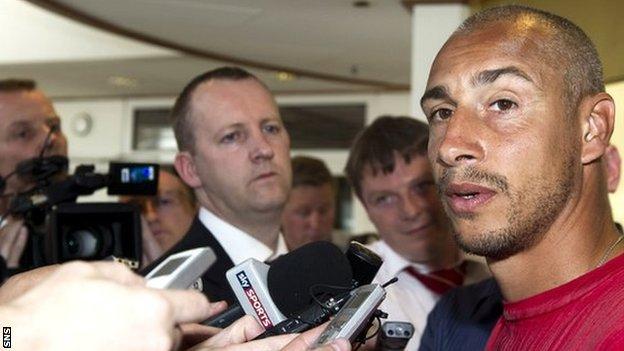 Henrik Larsson has rejected an approach from an unnamed club, with Falkenberg expecting him to stay as their manager for the rest of the Swedish season.
But Larsson has given his word that he intends to honour his Falkenberg contract, which runs until November.
Roy Keane, another former player, has also distanced himself from speculation that he might return to Celtic Park.
Celtic are drawing up a list of candidates, but they have not set a timescale for making an appointment.
Larsson had been considered one of the leading contenders to take over from Lennon, who will assist the club in identifying the next manager.
However, the 42-year-old appears to have now ruled himself out of the running, opting instead to stay with Falkenberg for the rest of the Swedish season, which ends in November.
Hakan Nilsson, the Falkenberg sporting director, admitted the club was aware that an unnamed side had made contact directly with Larsson to discuss a possible role. However, he insists the former Feyenoord, Barcelona and Manchester United striker has no intention of accepting their offer.
"He told me he has said 'no', and I know him as a man of his word," Nilsson said. "We have no concerns about him leaving.
"I speak to Henrik every day and we are focusing on tomorrow's game [at home to Hacken]. I have no problem with the club who has spoken to Henrik. He had said 'no' and therefore it is no question for us."
Larsson has admitted he could see himself returning to Celtic at some point and that he continues to have "good contact" with the club.
The appointment of the Swede would have met with popular approval amongst the Celtic support, despite his relative inexperience as a manager, although the Parkhead board has yet to finalise its shortlist of candidates.
Only then will a formal approach be made for the individual they identify as their first choice.
Nilsson confirmed that there was no contact from the club that spoke to Larsson to ask for permission.
"If that offer comes we will consider it then," Nilsson said. "[But] we are very happy to have Henrik with us. [He] has a contract with us and that contract is between us and Henrik, no one else."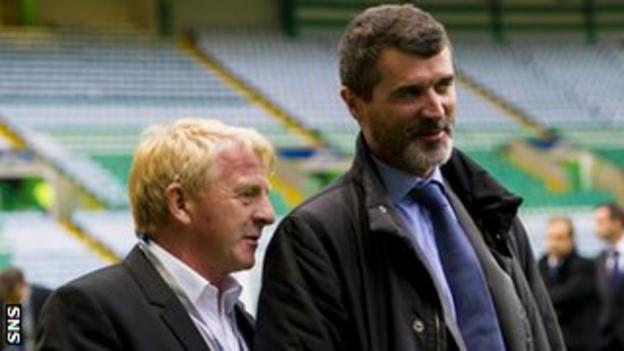 Keane, meanwhile, played for Celtic for six months in 2006 under Gordon Strachan and is currently assistant manager to Martin O'Neill with the Republic of Ireland as well as a television pundit.
He has featured on the bookmakers' lists of potential candidates but, speaking after the Republic's training session on Friday, distanced himself from the speculation.
"I've got a job - I've got two jobs - I can't have another one," Keane said. "People might see this role as part-time or whatever, but it keeps me busy, I enjoy it.
"I'm happy with what I'm doing and if somebody calls me, I will speak to Martin and the FAI and we will have a look at it.
"But it's all speculation, and obviously that speculation comes from yourselves [journalists]. I don't think you have heard it from any club sources.
"As I said, I have got a job, we have got a game at the weekend [against Turkey on Sunday], a busy old weekend coming up and I am looking forward to that."