Willy Sagnol: Bordeaux appoint former France defender as coach
Last updated on .From the section European Football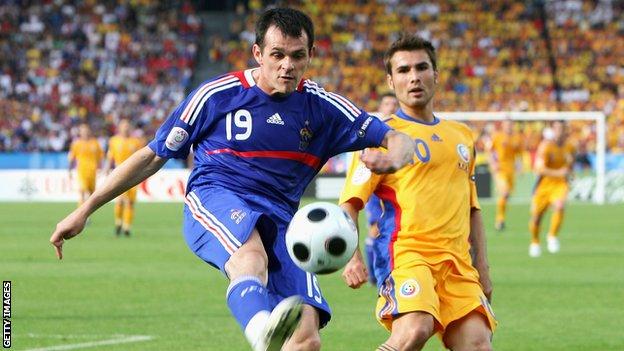 Bordeaux have appointed Willy Sagnol as their coach after failing in an attempt to recruit Zinedine Zidane.
The Ligue 1 side confirmed they have had "a lot of contact" with Zidane, who is assistant to Carlo Ancelotti at Real Madrid, but that they "were not able to satisfy his conditions".
"Unfortunately, the circumstances required for us to bring in Zidane did not come together," said the club's president Jean-Louis Triaud.
Sagnol has signed a two-year deal.
Although he has never coached a club side before, he is currently in charge of the France Under-21 side. The former defender also won 58 international caps and helped France reach the World Cup final in 2006.
Sagnol takes over from Francis Gillot, who recently announced his decision to leave after three years at the club.
In his final press conference, Gillot expressed his disappointment at Bordeaux's seventh-placed league finish.
"We're leaving on good terms with everybody," he said. "We haven't had the success we would have hoped for this season. I hope the next manager will have more luck."