Burton Albion: Shane Cansdell-Sherriff focused on Wembley glory
Last updated on .From the section Football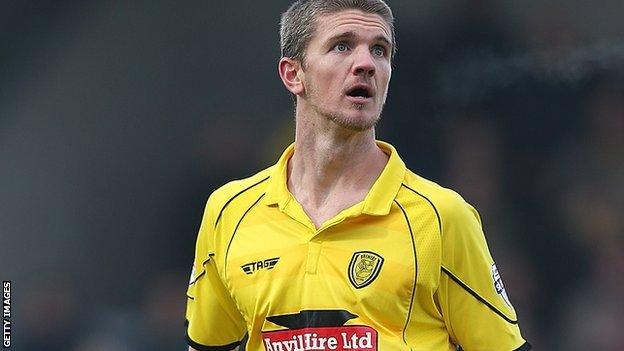 Burton Albion defender Shane Cansdell-Sherriff says he has studied the layout of Wembley Stadium to get a clear picture of what League Two play-off final glory would look like.
Fleetwood Town stand between the Brewers and promotion to League One and a triumphant walk to the Royal Box.
"I've looked on the internet. It's about visualising and preparing mentally," Cansdell-Sherriff, 31, said.
"You have to be willing to see yourself up there involved with that."
The on-loan Preston North End defender, who has featured 35 times for Burton since arriving at the Pirelli Stadium in September, also revealed that he will commit permanently to the club after Monday's final.
"I haven't signed on the dotted line, but I will," he told BBC Sport.
However, Cansell-Sheriff remains focused on playing a part in elevating Burton to English football's third tier for the first time in their history.
The Australian returned after a month out with an Achilles injury to help Burton advance to the Wembley final, starting in their 2-2 semi-final second-leg draw at Southend.
And, while he has not trained since then, Cansdell-Sherriff refuses to let the injury preoccupy him.
"If I went into game thinking about my Achilles, then after five minutes I will be feeling my Achilles and struggling," he said.
"I will go in thinking that I will get through 90 minutes and win the game. My focus is on doing my job, and that is to play a game on Monday.
"You have to be careful because you can get wrapped up in the excitement and glory of Wembley.
"You can go to big stadiums, big grand finals, and be absolutely knackered after five minutes purely because the energy within is being drawn out by everything around you.
"You really need to be there on the pitch, focused on the game and winning."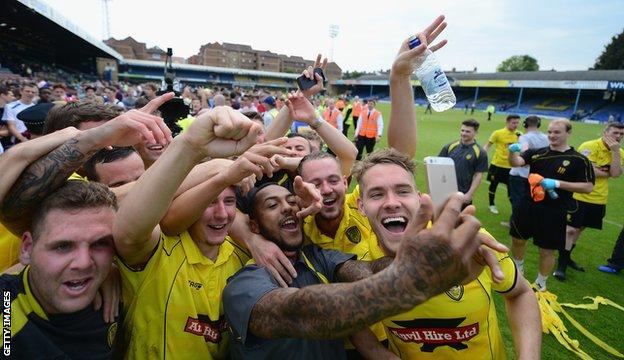 And Burton manager Garry Rowett insists he is doing all he can to shield his side from the glitz and glamour of the last Football League match of 2013-14.
"My job is to distinguish to the players what is an occasion and what is an opportunity," said Rowett.
"The occasion is for everyone else around the team, and you will never take that away from them - but for the players it is an opportunity to go one stage further.
"We've prepared like it's just another game - I know it isn't just another game, but that's how we're viewing it.
"We don't wear suits to away games, so we are not going to wear suits for Wembley. We don't go down three days before to prepare for games, so we are not going do that. It's all about aiming to keep it as normal as possible.
"We are not having families travel with the players, or meeting players on the day, things that might detract from the focus.
"We want to win the game, that's it."
The magnitude of the match is not lost on striker Adam McGurk, who helped Burton reach the final by scoring in both home and away legs of Burton's semi-final against Southend.
"Burton have never been in League One and neither have Fleetwood - this match is to make history," he said.
"This what you want when you are a kid playing in the street with mates, pretending to be this player or that player at Wembley. But you don't want to stop there, you want to win because no one remembers the losers."