Rwanda coach Constantine targets 2016 CHAN success
Last updated on .From the section Football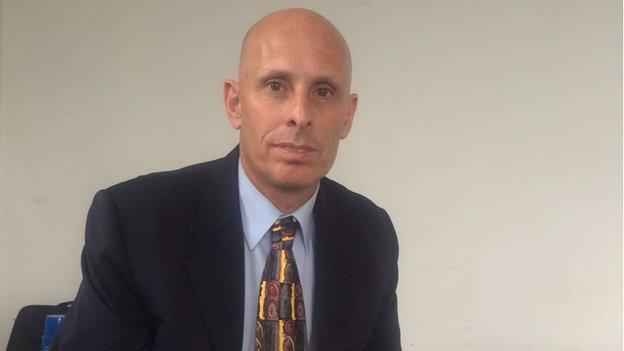 New Rwanda coach Stephen Constantine says his long-term goal is to build a team that will be competitive when the country hosts the African Nations Championship (CHAN) in 2016.
"In their last 17 games they have won once, drawn five and lost the rest," Constantine told BBC Sport when asked what he knew about the national team.
"We realise there is a lot of work to be done and we know we need to do it now. It will be a fantastic honour for Rwanda to host the CHAN tournament in two years' time and we really want to do well. We will be building towards it.
"We have got to regain confidence and change results. We will do that with hard work, good preparation and make things a professional as we can. I think every little detail counts."
Constantine says this is his long-term goal and insists no-one should not expect overnight success. However, he will have a chance to make a swift impact when he takes charge of his first game in just nine days' time.
Rwanda host Libya on 31 May in the second leg of a 2015 Africa Cup of Nations qualifier, with the score at 0-0 from the first time in Tunis last Sunday.
They last qualified for the finals in 2004 - a record that means they have to go through two rounds before they even reach the group stages of qualifying.
"Obviously Rwanda have not been doing the right things over the last decade and that's why we are in this situation," Constantine said.
"We have a very difficult game against a very good Libya side. Of course our target is to beat them. We are playing at home and hopefully the people will come out and support the team. We want to play good football and get the win."
While reaching the next phase of qualification would be a step in the right direction for Rwanda, Constantine knows a more substantial leap forward is going to require patience, effort and unity.
"You don't get success after one week or one month, it takes time. People will have to be patient. We can't change a team overnight," he said.
"We will need the support of all the people in Rwanda; the fans, the government, the football federation, coaches... we all need to pull together.
"Rwandan football needs a boost. I think they are all good players - I watched the team against Libya and I think there is potential. But I think potential is a dangerous word. You need to work very, very hard to realise your potential.
"If you look at Uganda, Malawi and Tanzania they have all gone up a level. If Rwanda doesn't start moving forward, we will be left behind."
Having coached Malawi and Sudan, Constantine is well place to make comparisons between African national sides - and he is also familiar with the administration problems that many believe is the root cause of African football's failure to live up to its potential.
"The talent is everywhere in Africa, the secret is to harness the talent and to do that you have to be very organised," he said.
"I think a lot of the African football associations let themselves down because they are not as organised as they could be or should be."
Time will tell if the Rwandan Football Federation can step up and deliver what is needed, but Constantine is pleased with his first impressions.
"I have been with the Rwandan set-up for two days and things seem to be going well. We have some good people here and I look forward to working with them over the next two years and really making a difference," he said.
For now, at least, there is a new buzz about the Wasps.
Additional reporting by Prudent Nsengiyumva in Rwanda