Rangers: John Brown backs fans' fund for season tickets

By Richard Wilson
BBC Scotland
Last updated on .From the section Football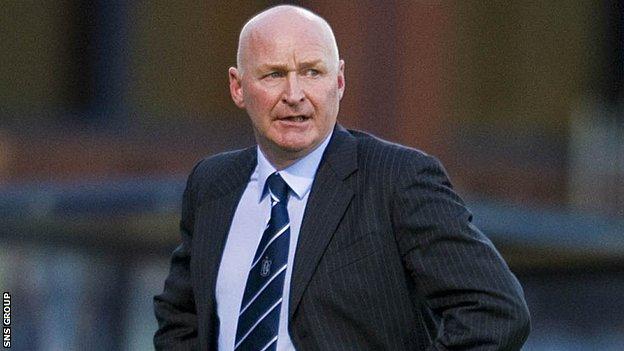 John Brown is the latest former Rangers player to declare his support for the Ibrox 1972 Season Ticket fund.
Brown, a fierce critic of former chief executive Charles Green, urged fans of the League One champions to withhold season ticket money two years ago.
He has now joined Richard Gough and Lorenzo Amoruso in backing the fund, which has been set up by supporters' group coalition Union of Fans.
"Rangers supporters must not give this board a lump sum of money," said Brown.
The deadline for renewals is on Friday, and it is thought that the number of tickets sold is still in the very low thousands.
During a question and answer session on Twitter last week, chief executive Graham Wallace admitted that sales were "slow".
In their interim accounts, published in March, and in Wallace's business review, details of which were released last month, Rangers acknowledged that if season ticket sales dip below last year's uptake - which was around 34,000 - then the business's ability to trade as a going concern will be under threat.
The UoF want fans to pay their renewal money into a fund instigated by former club director Dave King.
The group will then seek security over Ibrox Stadium in return for handing over the gathered money in a single payment. This would prevent the property being used as security against future borrowing.
Amoruso, the former Rangers captain, backed the campaign last week, while former Rangers manager Alex McLeish offered his support to King's intention to invest directly into Rangers International Football Club plc, by means of a new share issue.
"I am not saying to my fellow Bluenoses, 'don't support your team'," said Brown, who left his job as Dundee manager last February.
"Far from it. Buy your ticket on a match-to-match basis if this lot are still there next season."
Brown, who left his job as a scout at Ibrox when Green's consortium took charge two years ago, pointed out that former player and manager John Greig refuses to currently attend games at Ibrox.
He also said that he expects other former players to declare their support for the UoF initiative, although Mark Hateley urged fans to buy season tickets in an interview on the club website.