Manchester United: David Moyes denies rumours of rifts with players
Last updated on .From the section Man Utd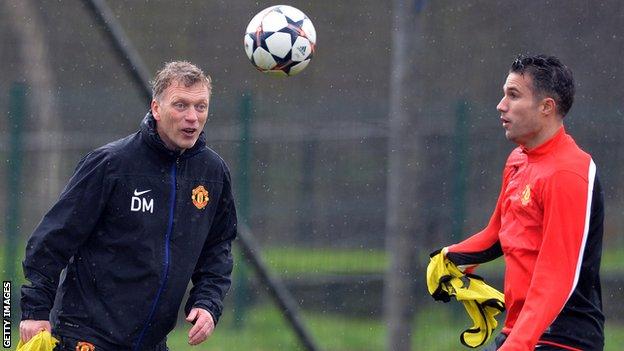 Manchester United boss David Moyes has accused the media of trying to destabilise his side.
Moyes and the club have denied reports of disagreements between the manager and senior players such as Robin van Persie and Ryan Giggs.
"A lot of people are trying to divide us in some way or not keep us together," Moyes told MUTV.
"I can only tell people what they're hearing or what they are saying is rubbish."
Moyes is under increasing pressure following United's 3-0 home defeat by Liverpool in the Premier League on Sunday.
That result left United seventh in the table and 12 points off the top-four spot that would secure their qualification for next season's Champions League.
They were knocked out of the FA Cup by Swansea in the third round and lost to Sunderland in the semi-finals of the Capital One Cup.
United must overturn a 2-0 first-leg deficit against Olympiakos at Old Trafford on Wednesday to progress to the quarter-finals of this season's Champions League.
It had been suggested that midfielder Giggs - a United player for 24 years - has been critical of Moyes's tactics, believing them to be too negative for a club of United's size.
This has privately been denied by the Welshman, who is annoyed at the claims.
Moyes added: "Over the last few weeks [the media] have tried to say there are problems with this player or that player. But the reports are all rubbish."