Walsall to face no action over Wolves racist abuse complaint
Last updated on .From the section Football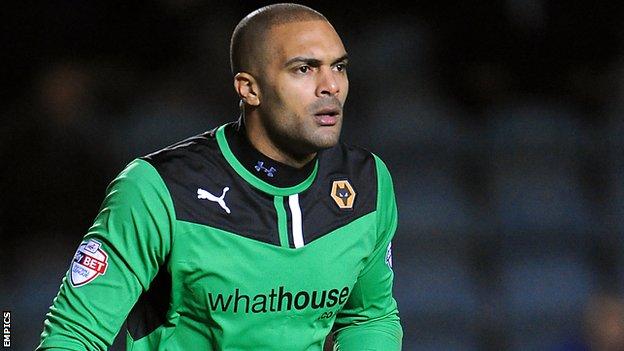 The Football Association will take no action against Walsall over a complaint of alleged racist abuse during their home match against Wolves on 8 March.
Goalkeeper Carl Ikeme and defender George Elokobi raised the issue to Wolves management staff after the League One game, which Wolves won 3-0.
But an investigation by Walsall could find no evidence of racist abuse.
"In the circumstances, the FA is not in a position to take any further action in this matter," a statement read.
The abuse was alleged to have come from behind Ikeme's goal during the second half and in the first half as Elokobi warmed up.
The statement continued: "Walsall have advised the FA that no reports of racist abuse were made to the control room on the day by stewards or police and that nothing was reported by the match officials.
"Since the game, Walsall have carried out a full review of the CCTV footage and advise that there is nothing of evidential use in respect of racist behaviour.
"Also that at their subsequent home game on 11 March the club took the opportunity to question all stewards working in the relevant areas of the ground and none of them reported hearing any racist abuse at the Wolves game."