Wrexham ready to appoint new manager, says director Harris
Last updated on .From the section Football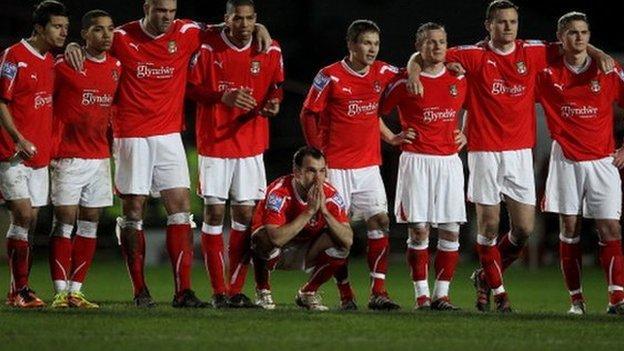 Wrexham say they will appoint a new manager to replace Andy Morrell before their next game on Saturday.
The Conference Premier club has held interviews for the vacancy with caretaker manager Billy Barr interviewed on Monday.
Club director Spencer Harris is part of a three-man panel who have been charged with finding a new manager.
"We have a list of candidates and we will be looking to appoint by the end of the week," said director Harris.
The club hopes to have a new manager before their next game against Salisbury City at the Racecourse on Saturday.
Wrexham director Barry Horne stated the club had received an "astonishing" amount of applications since manager Morrell's departure.
Harris confirmed that the Dragons have had more than 200 applicants for the vacancy at the Racecourse Ground.
"We have been busily working away and we have had a rigorous and thorough process," said Harris.
"We had well in excess of 200 applicants. Over a 100 of those were really serious applicants, with UEFA pro licence, A licence etc.
"People who have managed in the Champions League, who have managed right across the spectrum of divisions in the English system.
"A real mix of very experienced managers, through to highly ambitious potential first-time managers.
"We have a real diverse mix and the approach and doing it this way has given us options and a choice."
Harris refused to be drawn on whether caretaker boss Barr, who has said he wants the job, was a genuine candidate for the role.
Barr guided Wrexham to a 2-0 home win against Hereford on Tuesday in his final game as caretaker boss.
Former manager Morrell has backed his former assistant to be his successor at Wrexham.
"We will be looking to reach a decision and putting in place a candidate by the end of the week," said Harris.
"We have been delighted by Billy over the last five weeks.
"Billy came into a very difficult situation and he has stepped up to the plate, the results haven't been fantastic...but people don't see the things that are happening off the pitch and around the club.
"The integrity and the work Billy has done over the last five weeks have made him a very strong candidate."