Manchester United: Roy Carroll 'shocked' by former club's decline
Last updated on .From the section Football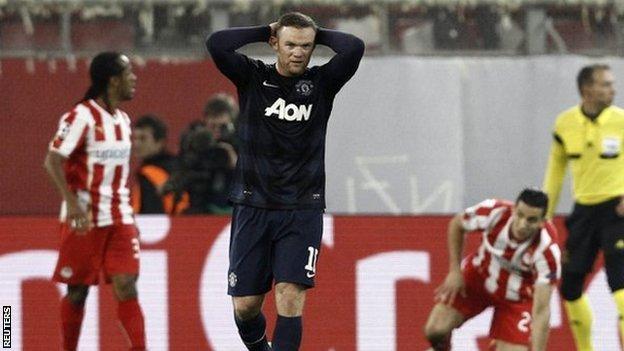 Olympiakos goalkeeper Roy Carroll says he is shocked by former club Manchester United's decline this season.
United managed only one shot on target as they lost 2-0 at Olympiakos in the first leg of their Champions League last 16 tie.
Ahead of the second leg at Old Trafford on Wednesday, Carroll told BBC Radio 5 live: "I have never seen Manchester United not create many chances.
"It was a big shock, especially their performance."
Carroll, who did not play in the first leg, spent four years at United from 2001 to 2005, winning the Premier League in 2002-03 and the FA Cup the following year.
Defending Premier League champions United are currently seventh in the table, 12 points off the top-four spot they need to qualify for next season's Champions League.
Their best chance of booking a place in next season's competition appears to be by winning it this year.
However, the last time they overturned a two-goal deficit in Europe was in beating Barcelona 3-0 at Old Trafford in the Cup Winners' Cup in 1984, and they won only six of their 14 league games at home this season.
"At Old Trafford, it has been very disappointing for them this season," said 36-year-old Northern Ireland international Carroll. "They have lost a lot of games and let a lot of goals in.
"If we can keep them quiet, hopefully the fans will get on the back of the players and make them more nervous.
"We have to go out like we did at home and attack. It is very important for our players to try to get a goal.
"We have to defend well because a strike-force like Wayne Rooney and Robin van Persie can score at any time.
"We have great respect for them; we know what they can do. Manchester United can turn it around."
Olympiakos coach Michel said he sympathises with opposite number David Moyes, who has come under heavy criticism in his first season in charge since replacing Sir Alex Ferguson.
"David Moyes is suffering and I don't like to see any manager suffering. I have sympathy for him," said former Spain international Michel.
"We know he works hard, but sometimes results don't mirror the hard work done.
"It's nothing personal to David Moyes. It's a big opportunity to knock Manchester United out of the competition, but David Moyes is not an enemy."
Meanwhile, United defender Patrice Evra says he will draw on the experience of France's comeback from 2-0 down to beat Ukraine in the World Cup play-off last year.
"What we did can be an inspiration," said Evra. "It was a difficult day after the first leg, we didn't expect to lose 2-0 in Ukraine but after two days the storm passed and everyone was focused on the same goal.
"We stood together, we didn't listen to the criticism and we played for the people who love us - our families, our fans - and we gave everything.
"I am confident we can do it. I have been in that situation, I can handle the pressure; I think the team will. We have to show that."