Aberdeen: Jonny Hayes goes from low to League Cup high
Last updated on .From the section Aberdeen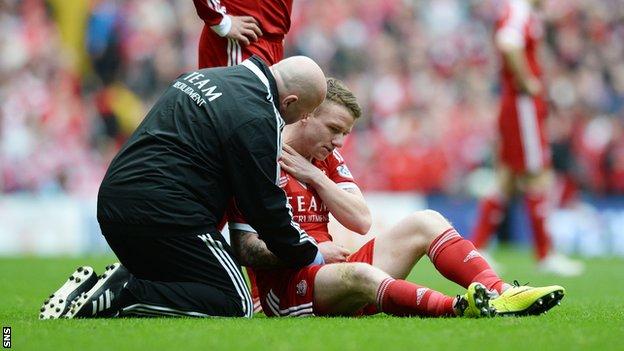 Jonny Hayes says he went from his lowest ebb to his highest high in one afternoon as he enjoyed Aberdeen's League Cup glory through the pain.
"Bar a family tragedy, that was the lowest of the low for me, coming off," the 26-year-old told BBC Scotland.
"But winning the Cup, it makes the pain go away. It was a great night."
Hayes, one of three Dons players who previously played for Caley Thistle, will now have further tests to determined the damage to his shoulder and collarbone.
"Coming off in the first couple of minutes was obviously disappointing and I sat in the stand watching the rest of the game," said the Irishman, who was in tears as he left the field.
"I was really nervous, to be honest, but if you had offered me at the start of the day that I had a bad injury and we won the Cup, I would have taken up that offer.
"I've never felt so bad. I picked myself up to go out and watch the first half and then went back in at half time and I was upset in the changing-room, I spoke to my partner, Sarah, and it took me 10-15 minutes to go back out for the second half."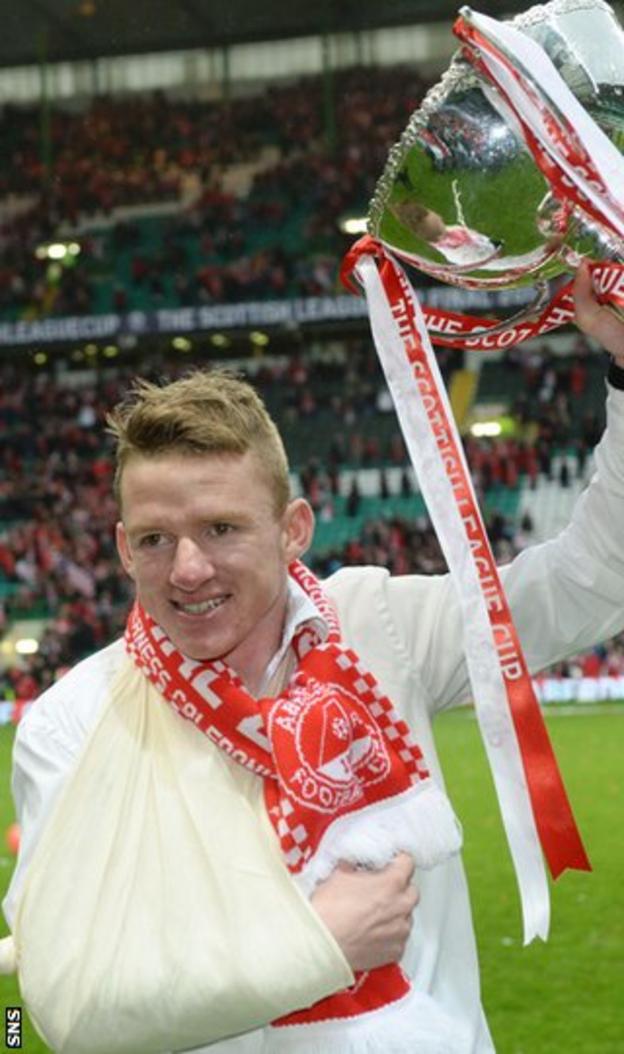 Hayes admits the club's doctors had been concerned that he might exacerbate the injury in the celebrations that followed a 0-0 draw and penalty shoot-out at Celtic Park.
"Once I got back out there, I was like a Dons fan in the stand," he said. "I was up and down every two minutes and, when Adam Rooney scored the winning penalty, the doctors were actually holding me telling me 'don't celebrate'.
"I couldn't help it. It was a fantastic day. It was nerve-biting in the end, but thankfully the gaffer had us practicing penalties for the last few weeks and it paid off."
Victory ended Aberdeen's 19-year wait for a trophy and it was achieved in front of a travelling support of more than 40,000 Dons fans.
"The chairman put on a great night for us at the hotel and we had a night in town as well and it was nice to see the reaction of the Dons fans," added Hayes.
"They were brilliant yesterday and have been outstanding all season and, for them to have something to celebrate, is a fantastic moment for us.
"That's what you play football for. You don't play football for glory. You play for moments like that and it will live long in the memory.
"Obviously, there's a little bit of relief within the club but it is no more than this team and this club and this city deserved."