Shrewsbury Town: Mike Jackson likes seeing confrontation
Last updated on .From the section Football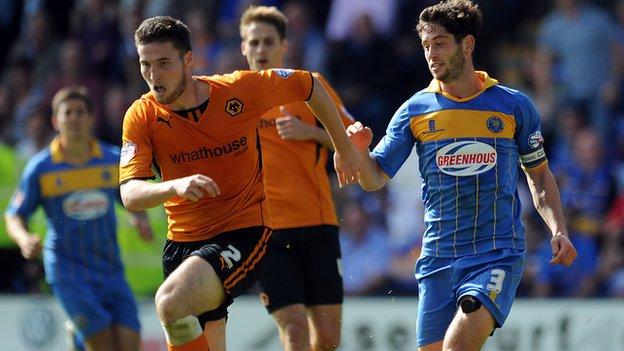 Shrewsbury Town manager Mike Jackson has defended a "dressing room row" after Saturday's 0-0 draw at League One leaders Wolves, insisting that it is a healthy sign at any football club.
"It's good for any changing room to have confrontation," said Jackson.
"I'd rather we cared and were emotional about it rather than sitting there dumb," he told BBC Radio Shropshire.
"We had a bit of a row in the dressing room, but that's good. It's the first time in a long time that I've seen it.
"In the changing rooms I've been in as a player, I've seen a hell of a lot worse than that. I've seen fighting. I've seen cups thrown."
Having won just once since New Year's Day, it was a worthy enough performance by 23rd-placed Shrewsbury that they should hold a Wolves side that had scored 25 times and let in just two goals in a club record nine-game winning run.
But, having drawn four of their last six League One games, three of them goalless, and achieved a 3-2 comeback win at Notts County, Town left Molineux frustrated not to have claimed all three points after Bolton Wanderers loan man Eaves' miss.
"At the last minute he could have slipped in Paul Parry and he's decided to go himself and he's got his shot off," said Jackson.
"He's a young lad who will make mistakes. We can question them. But if people just say 'never mind', how do you improve?
"After a game like that, it's always going to be emotional. But I don't want the lad to get hammered for it. It's gone now. Why dwell on it?"
After losing just once in six matches, Jackson's men now head for Colchester on Tuesday night looking for the win that would lift them to within a point of escaping the relegation zone.