Makinwa asks for help from Fifa in China contract dispute
By Oluwashina Okeleji
BBC Sport, Lagos
Last updated on .From the section Football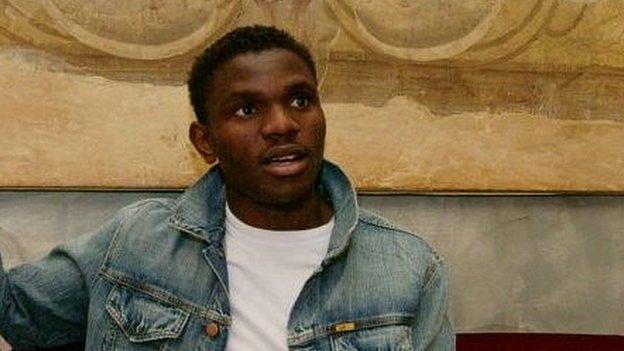 Nigeria striker Ayodele Makinwa has asked Fifa for help in his fight for compensation from China League One club Beijing Baxy.
The 30-year-old has asked football's world governing body to intervene in his dispute with Baxy after the club terminated his contract, just one year into a two-year deal.
He says he has yet to receive an official statement from the club for the early termination of his contract and has decided to take his case to Fifa via his legal team.
"The club president told me during our pre-season that the arrival of new sponsors and partners has led to a decision to sign new foreign players," Makinwa told BBC Sport.
"There was nothing official, no option of a mutual termination or an indication of what to expect from our conversation.
"So when it was time to return [after pre-season in Kunming, southwest China], Baxy failed to provide me with the necessary documents for my re-entry visa.
"They refused to respond to my warnings and after they shut the door of communication I filed a complaint to Fifa seeking redress for wrongful termination of my contract."
The former Lazio striker who scored four goals in 11 matches for the Chinese side aims to prove Baxy were wrong to terminate his contract, and also seek outstanding salary, bonuses, ticket refund and compensation with interest.
"We have already written to Fifa showing proof that they were wrong and failed to respect the terms and conditions of my contract," he said.
"They are still owing me salary, ticket refund, bonuses and I have also asked for compensation with interest.
"If everything was done right, I could have joined another team earlier but they've made life difficult hence my decision to go to Fifa."
According to China-based Peter Davis, a writer for Wild East Football, contract disputes are becoming prevalent in Chinese football.
"There is a similar situation with Australia's Joel Griffiths at relegated Qingdao Jonoon. He had every intention to stay on but was released with time still remaining on his contract.
Davis added: "Griffiths like Makinwa got Fifa involved to resolve it and with several Chinese players there have been stories along the same lines.
"Contracts are a difficult thing here, often not treated with the same seriousness as in the west so it will take high profile stories to ensure future players don't have to go through this.
"Beijing Baxy are a fairly wealthy club, backed actually by an ice cream company and there are growing rumours that the mega rich Wanda group may invest in the club.
"Makinwa did well at Baxy for a short time, unfortunately shorter stays in China are becoming commonplace and turnover of players is picking up and performance in the case of some players may not be relevant."
Makinwa has 18 caps and two goals for Nigeria since making his debut in 2004.
He played for the Super Eagles at the 2006 and 2008 African Cup of Nations in Egypt and Ghana respectively.