Sierra Leone pair Mohamed Kallon and Isha Johansen settle row
By Mohamed Fajah Barrie
BBC Sport, Freetown
Last updated on .From the section Football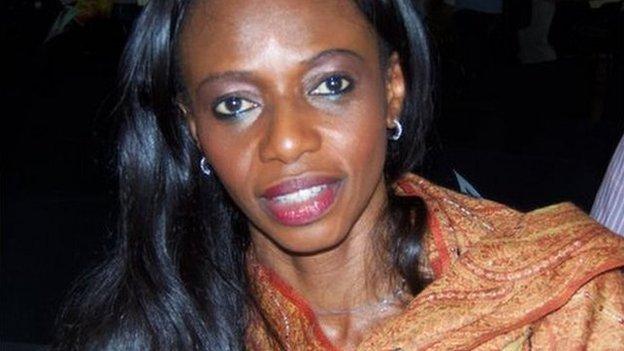 The row involving ex-Leone Stars captain Mohamed Kallon and President of the Sierra Leone Football Association (SLFA) Isha Johansen has been settled, following the intervention of the country's political and public affairs ministry.
Sierra Leone's deputy minister of political and public affairs, Karamoh Kabba, said both Isha and Kallon had vented their anger during a meeting on Friday.
He told BBC Sport the matter was now amicably resolved:
"The two people have also decided to withdraw the matter from the police.
They have decided to work together. Isha has accepted to take leadership and she has asked Kallon to help the SLFA in the technical area."
The row occurred on 6 March after an FA Cup game involving Kallon's team, Kallon FC Junior.
The former Inter Milan and Monaco player alleged he was slapped on the back of the neck by Johansen after the match.
Johansen contested this and claimed she acted in self defence after Kallon pushed her. She also alleged that he verbally abused her.
The matter was reported to the police by both Kallon and Isha. Kallon was detained by the police for about seven hours for questioning and was released on $11,000 conditional bail.
Kallon's lawyer Emmanuel Saffa Abdulai told BBC Sport that Kallon accepted the matter should be amicably settled after Isha apologised for her actions during Friday's meeting:
"In the interest of the football game and the country, my client has accepted the apology and this means we are done with the matter."
SLFA spokesman John Konteh says both Kallon and Isha have apologised to each other:
"The matter has been resolved and it's good for the peace and stability of the country and the passion of the youth."
"Isha accepted to resolve the row based on the fact that it is to do with Sierra Leone.
In fact, she has asked Kallon to come to her SLFA office on Monday for official discussion."
Meanwhile, the SLFA will review its earlier decision for its disciplinary committee to investigate the matter.