David Moyes expects contract extension for Robin van Persie
Last updated on .From the section Man Utd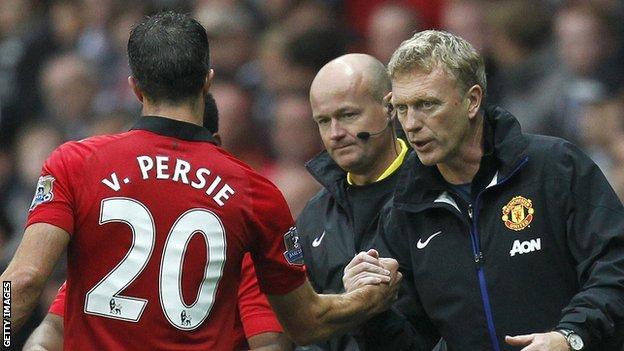 Manchester United boss David Moyes expects striker Robin van Persie to be given a new contract after he expressed his desire to stay with the club.
Moyes said: "He is happy here and we are very pleased about that."
The Scot also admitted that Liverpool probably start as favourites when the teams meet at Old Trafford on Sunday.
Nertherlands international Van Persie scotched speculation about his future on Thursday night when he insisted he is content at Old Trafford.
The former Arsenal striker said he would like to extend his current deal beyond 2016.
A delighted Moyes added: "He has a couple of years on his contract and I'm sure that (an extension) is something the board will look at."
Although Van Persie's declaration that he is happy at the club comes as a boost, Moyes knows his own future will be under scrutiny if United lose on Sunday against Liverpool.
While United have struggled this term, their old foes have performed above expectations and they now sit second in the Premier League.
Moyes added: "Their league position suggests they are ahead of us and they possibly do come here favourites."
Although Moyes has only been at Old Trafford since last summer, he is well aware of what the match means for the two sets of fans.
"It has been a great rivalry between the two clubs," Moyes added. "Liverpool are having a very good season and we have to do everything we possibly can to beat them."