Michael Johnston to stand down at Kilmarnock after striking debt deal
By Richard Wilson and Jim Spence
BBC Scotland
Last updated on .From the section Football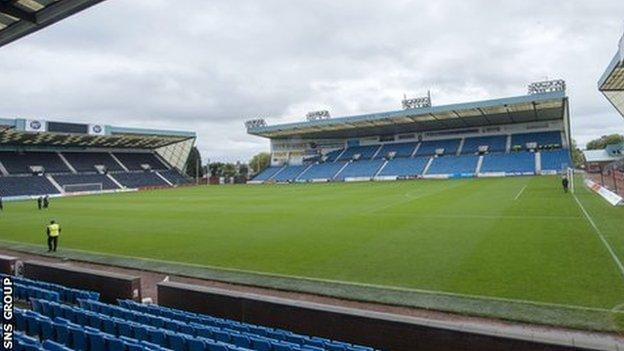 Kilmarnock have announced a deal with the Bank of Scotland that will help clear the club's £9.4m debt.
The agreement will likely involve Michael Johnston stepping down as chairman at the end of the season.
The club's Park Hotel, valued at around £2.5m, will be sold to a company owned by Billy Bowie, with the businessman then converting the balance of the bank debt into equity and become chairman.
A seven-figure loan by former owner Jamie Moffat will be written off.
As a result of the restructuring, Johnson's 87% stake is being reduced to below 50%, meaning no individual will have a controlling interest in the Ayrshire club.
Johnston and Bowie will also be joined on the board by three new investors: Jim Mann, David Moran and Russell Smith.
Kilmarnock will be left essentially debt free after the proceeds from the sale of The Park Hotel are put towards clearing the liabilities.
Negotiations have been ongoing for weeks, and became more pressing after the Kilmarnock Futures Consortium - a group of local businessmen - pulled out of takeover talks.
It is understood that Bowie will provide an injection of working capital to sustain the club until season tickets are sold later in the year. The three new directors will also provide additional funding, while Johnston has told BBC Scotland that the club are exploring the possibility of installing an artificial pitch to raise further revenue.
A new Community Engagement Board will be set up to work alongside the board and its 11 members will include local politicians and minor shareholders.
Clauses are thought to be included in the agreement that would prevent individuals benefitting from the sale of assets in the future, which would effectively secure the long-term future of Rugby Park for the Kilmarnock community.
However, some of the forthcoming investment in the club will be required for stadium maintenance work.
The deal would free Kilmarnock from the burden of meeting the repayments on a large debt, but the club would also lose the revenue stream from the hotel, which lies adjacent to the stadium and is a profit-making business.
Johnston has stressed at previous annual general meetings the importance of that revenue stream to the club. However the debt, which was accrued in the building of the hotel, was holding Kilmarnock back.
Some supporters are expected to remain opposed to Johnston's continuing involvement as a board member, and will continue the Not A Penny More campaign that was launched in a bid to oust him as chairman.
The Kilmarnock sponsors, QTS, will also continue to back the club in a kit sponsorship deal worth around £250,000.
Alan McLeish, the owner of QTS, was a member of the Kilmarnock Futures Consortium that withdrew from takeover talks with Johnston, but he remains committed to financially backing the club.