Steve Bruce accepts Alan Pardew headbutt apology letter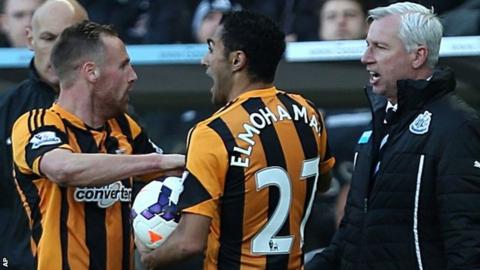 Hull manager Steve Bruce has accepted a written apology from Alan Pardew after the Newcastle boss headbutted Tigers midfielder David Meyler.
Pardew sent a letter to Bruce, who said: "As far as we're concerned, we accept his apology.
"All of us in the heat of the moment could look back at times and think, 'what the hell have I done that for?'"
Pardew, 52, received a seven-match ban and a £60,000 fine from the FA after admitting a misconduct charge.
Bruce added: "I hope it's over - it certainly is as far as we're concerned and I'm sure Alan will make sure it doesn't happen again.
"Alan will look at himself and think the same. In the cold light of day he's been punished heavily and I don't think he'll be going to the races this week."
Pardew admitted he feared he would be sacked and was repentant after the touchline fracas with Meyler, which happened during the Premier League match at the KC Stadium two weeks ago.
The Newcastle manager said: "I sent a letter to Steve to say there was no animosity on my side towards David, and to say sorry basically for the incident that happened. I deeply regret it."
Pardew, who was also fined an additional £100,000 by his own club in the aftermath of the flash point, starts the seven-match ban on Saturday for his side's Premier League match against Fulham at Craven Cottage.
Newcastle assistant manager John Carver will take charge of the team in Pardew's absence.