Tokelo Rantie: AFC Bournemouth striker vows to repay faith
Last updated on .From the section Football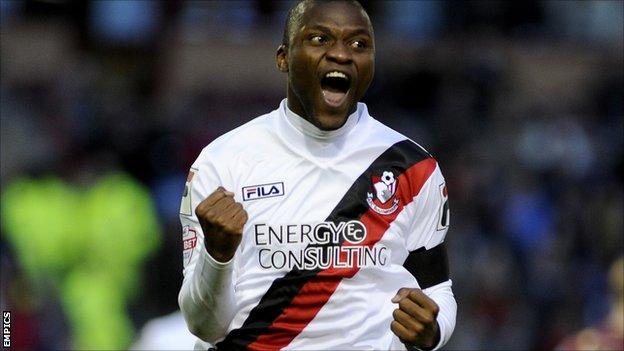 Bournemouth striker Tokelo Rantie says he is determined to repay the faith shown him and says he is adjusting well to life in English football.
"It is up to me to make up for the lost time," the South Africa international told BBC Radio Solent.
"The support is massive from the manager. He has done a tremendous job in making me feel welcome."
Rantie, who played in South Africa's 3-0 defeat by Brazil last week, added: "Credit to the lads also, they have been trying their best to make me feel part of the group. They are not judgemental, they are supportive and now it up to me to repay their faith."
And the striker, who joined from Swedish side Malmo, believes playing in England is turning him into a better footballer.
"I am enjoying it," he said. "I am a person who likes to learn and I am at a place where I am being given that opportunity and I need to work even harder.
"I'm so excited that sometimes I end up doing certain mistakes because I want to know so much about English football.
"I've always watched English football so being here is motivation. I'm patient and happy and I know my chance will come."
The forward also says he is now coming to terms with the fact he is the club's record signing and no longer sees it as a burden.
"No, at first it was there and when you come into a new environment you try and impress because of what they paid," he said.
"As time has gone on I've realised that is nothing to do with me and I just have to make the fans and team mates happy and make myself happy most importantly.
He added: "I am going to stay and fight and with the price tag thing I know soon I will be back at my best and people will not mention it. The more I worry about it the more mistakes I will make."