Cardiff City 'under pressure' to stay in Premier League - Ben Turner
Last updated on .From the section Football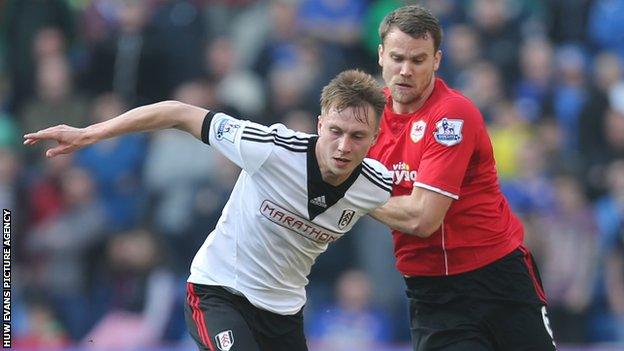 Defender Ben Turner admits Cardiff City are under pressure to get results in their bid to stay in the Premier League
Cardiff are now only in the Premier League's relegation zone on goal difference after a 3-1 win over Fulham.
The victory was only Cardiff's second league win since Ole Gunnar Solskjaer replaced Malky Mackay in January.
"We are under pressure, mainly under pressure from ourselves and from within," Turner said.
"Everyone at the club wants to be a Premier League footballer and to do that we have to perform as a team on the pitch to get the points.
"From speaking to the lads and the way I feel myself, that's the biggest pressure I feel we're under.
"We know that we can actually do it, we know that there's a good enough foundation within the team and the squad to get the points that we need.
"But it's about performing and we don't want to be coming off the pitch many times between now and the end of the season having lost games and dropped points where we shouldn't have."
"You never look at a fixture and say 'we can't get anything there'.
"You can always get something if you set up right and have the luck on the day.
"Fulham, especially, was a game we looked at and I said before the Fulham game it's almost more than a must-win."
Cardiff climbed to 18th, level on points with West Brom in 17th following victory over fellow strugglers Fulham on Saturday.
Manager Solskjaer says his side need to win four of their last nine fixtures to have any hopes of staying in the Premier League for a second season.
Turner says the victory was much needed after only one win in their previous six league games and the former Coventry player believes it will have given the squad renewed hope ahead of the game at Everton on Saturday.
"With 10 games to go and the situation that we're in it was vital to beat Fulham," Turner added.
"We needed the points first and foremost and it also gives the squad a whole new lease of confidence going into the last nine.
"The next two games especially we will need to be firing on all cylinders or as close as we can and we'll need things to go for us on the day if we're going to get points from them games.
"A win in football, when you're in the position we're in, it can be massive.
"Being in that dressing room on Saturday and the way that felt, you almost forget about that feeling and when you get it back, like we did at the weekend, we want that again and we know we need to work hard."