World Cup path clear for Brazil v Argentina final
By Tim Vickery
South American football writer
Last updated on .From the section 2014 Fifa World Cup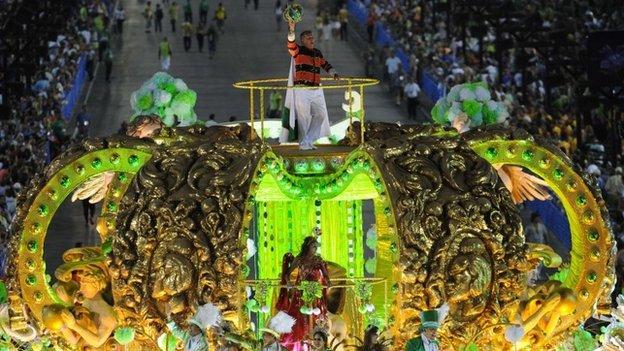 The Rio samba schools steered well clear of the 2014 World Cup when they selected their themes for Carnaval. The winner based its parade on the idea of speed, with pride of place for Ayrton Senna.
Another school paid tribute to Zico, and finished fifth. But no one wanted to touch the coming World Cup.
One school in the Sao Paulo parade took the plunge - one from the Itaquera district, where the new stadium is being built.
They were relegated. Even the weather turned against their parade, which celebrated the fact that the World Cup kicks off in their neighbourhood. They had to strut their stuff in heavy rain and a hailstorm.
There are signs of protest fatigue, but it is obvious that the 2014 World Cup has a public relations problem with the Brazilian people, upset at how much it is costing and how little it is giving back.
Nothing that happens on the field can right many of the errors of the organisational process.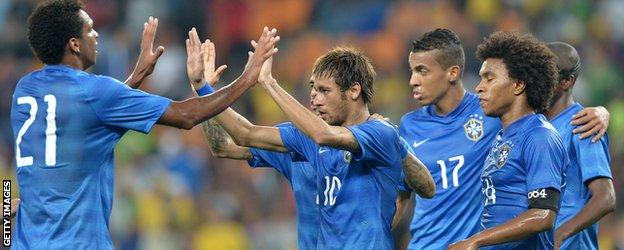 But if the hosts win the tournament some, at least, will look at it in a more forgiving light. And last week's 5-0 win away to South Africa gave more evidence for the view that Brazil are justified favourites.
Many were sceptical when coach Luiz Felipe Scolari was brought back for his second spell in charge late in 2012. But it is hard to see the last year as anything other than a complete triumph for the Brazil boss.
In June and July he defined a team, an idea and an identity, won over the crowd and claimed the Confederations Cup. In subsequent friendlies he has intelligently added variations, and everything he tries seems to be working. His side have won seven of their eight matches, scoring 25 goals and conceding only three times.
Of course, none of this is any guarantee of glory. The World Cup can be hideously cruel. History is full of magnificent, well prepared sides who left empty handed.
Scolari is particularly worried about the other South American sides; he seems more concerned by the prospect of a second-round tie against Chile, for example, than a meeting with either Spain or Netherlands.
There is the possibility of a quarter-final against the dangerous Colombians. And providing both sides win their group, the most likely final is the prospect of Brazil against Argentina.
Predictions, of course, make fools of us all. But if Brazil are candidates for a place in the final, there is much to be said in Argentina's favour as well - in addition to their own virtues, coach Alejandro Sabella's team have also been received the benefit of the luck of the draw.
This is not merely - or even mostly - because Bosnia, Iran and Nigeria are not the most daunting of opponents. More important is the location of Argentina's matches.
Whether they finish first or second in their group, the same observation applies; Argentina will play the entire tournament without going any higher up the country than Brasilia.
This means that all of their matches will be relatively near their own country. More significantly, though, Argentina will never have to play in the heat of the North and North East which is not only uncomfortable, it also has a draining effect on performance.
Should they make it through to the final, they should certainly arrive in fresher condition than their opponents.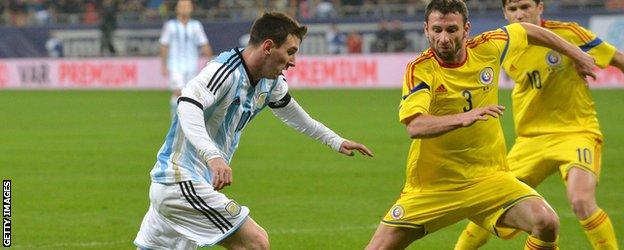 Are they good enough to take advantage? Last week's 0-0 draw away to Romania will have sown doubts in the minds of many who saw it. Perhaps the biggest doubt is how such an open game ended goalless.
There was plenty of action in both penalty areas - and there should be more of the same when Argentina play in the World Cup.
Sabella acknowledges that, in a perfect world, this would not be his team. He worships at the altar of Juan Sebastian Veron. If he could clone his players then the Veron of a few years ago would boss a midfield based on calm possession of the ball.
Instead, Sabella is a hostage of the characteristics of the players at his disposal.
He was thrown in the deep end when he took over, forced to find a rapid answer to a vital question - how to get the best out of Lionel Messi?
It took him a while, but from the half-time interval away to Colombia when Sergio Aguero was introduced, the pieces started to fit together.
Messi operates behind Aguero and Gonzalo Higuain, both usually thrown wide to give the Barcelona genius as much space as possible. To his left, crashing forward from his post in the midfield three, is Real Madrid's Angel Di Maria.
Fielding this combination of talent has consequences. It means that Argentina can attack with hallucinating speed; on Wednesday Di Maria and Messi played a quick one-two in eighty metres, creating an opportunity that was wasted when Higuain's heavy first touch took him too narrow.
But it can also leave the defence exposed, especially down the flanks. There are periods when Argentina can look disjointed, with lots of space between their lines.
For this reason their second most important player in qualification was midfielder Fernando Gago, who so often served as Messi's supply line. Gago's pass and move style helps knit the side together. But he has hit a slump.
Now back in Argentina with Boca Juniors, there was even speculation that he might be dropped for last Sunday's visit to Racing. In the event he played - though a yellow card means that he will miss the next match.
Club coach Carlos Bianchi went out of his way to praise Gago after the game - which is good news indeed for Alejandro Sabella. An in-form Gago helps minimise the risks of picking such a front loaded line up.
If they are to bring their attacking talent into the game, Argentina must have sustained periods of controlled possession. Without it, the defence could let them down. With it, they can go all the way to the final.
If so, they will surely arrive fresher than Brazil. The hosts, though, can count on a better balance between attack and defence. And if Brazil win, especially against Argentina, then this year's World Cup could even feature as a theme for the Carnaval of 2015.
Comments on the piece in the space provided. Questions on South American football to vickerycolumn@hotmail.com, and I'll pick out a couple for next week.
From last week's postbag:
Surely, Diego Costa has to be up there for a chance at playing for Brazil in the World Cup? Jason Coombes
That ship has now sailed. The Atletico Madrid striker made his debut for Spain in midweek (curiously against Italy, the opponents when he made his Brazil debut last year).
He has definitively thrown in his lot with the Spaniards, which provoked an angry response from Brazil's FA - president Marin even talked about wanting to take steps to cancel his citizenship.