Premier League & FA Cup: Garth Crooks's Team of the Week

By Garth Crooks
Football Analyst
Last updated on .From the section Football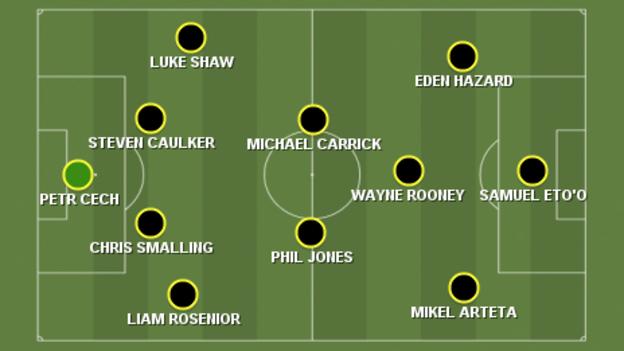 It was a weekend with an FA Cup giant killing as Wigan beat Manchester City and, in a another blow to Manuel Pellegrini, Chelsea moved seven points clear at the top of the Premier League by thrashing Tottenham.
Ole Gunnar Solskjaer's Cardiff breathed a sigh of relief as they beat Fulham in a vital relegation battle, but Crystal Palace's defeat by Southampton leaves the Eagles close to danger.
Manchester United shone to beat West Brom - who look in big trouble - while Stoke and Norwich drew to aid their survival hopes.
Here's who made my Team of the Week:
GOALKEEPER - Petr Cech (Chelsea)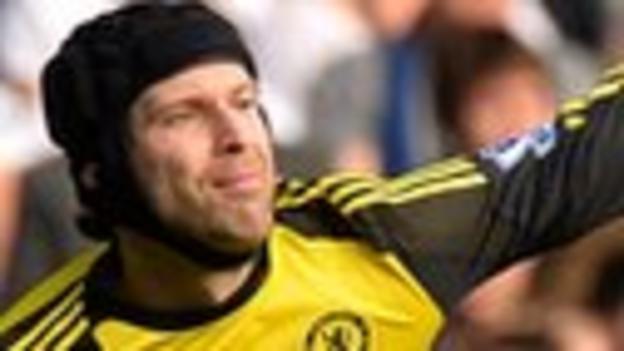 It was not easy for me to pick an outstanding keeper this week, which I think is more of a reflection on the quality of games and not the quality of the keepers.
So I have gone for a safe pair of hands. Chelsea are clear at the top of the Premier League and Petr Cech has to take some credit for that.
He kept another clean sheet against Tottenham and made a brilliant save from Sandro at a time when Spurs were desperate to get back into the game.
By the way, the teams with the best keepers normally win the league.
Did you know? Cech has a league high 13 clean sheets this season. He has not conceded in 155 games during his Premier League career, a figure only bettered by David James with 169 shut-outs.
DEFENDER - Luke Shaw (Southampton)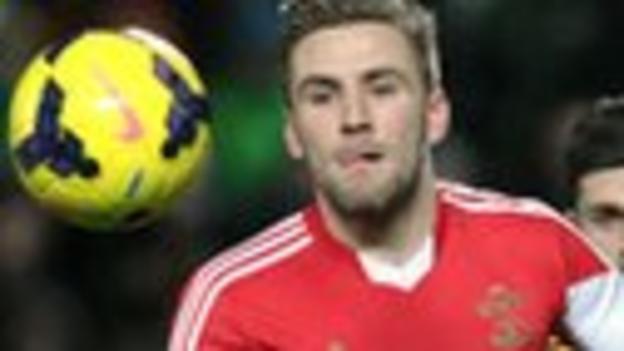 There are some players who are destined for international careers and others who are not. Luke Shaw looked so comfortable against Denmark last week that he might find himself representing his country for some considerable time.
Whether Southampton can keep a player of his ability at St Mary's is another matter entirely.
His performance against Crystal Palace was as assured as ever. I hear Manchester United are looking for a decent left-back.
Did you know? The England left-back has taken 264 throw-ins this season in the league - only four players have taken more.
DEFENDER - Steven Caulker (Cardiff City)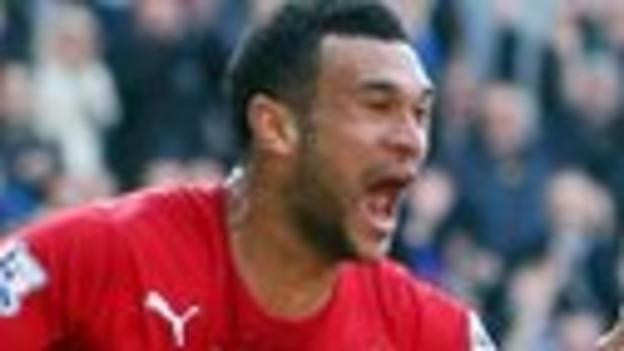 Cardiff against Fulham was a massive game for Ole Gunnar Solskjaer and, in the end, the Bluebirds deserved the victory.
On Final Score, Robbie Savage said Cardiff's recent results made him question whether "Solskjaer might be out of his depth in the Premier League". The way Steven Caulker and his team-mates dismantled Fulham suggests to me that the Norwegian might be the man to keep them in the division.
It made for a special week for Caulker, who made the England squad against Denmark before providing a survival lifeline for the Bluebirds against a Fulham side who look destined for a spell in the Championship.
Did you know? Caulker has four Premier League goals this season - the only defender with more in 2013-14 is Seamus Coleman.
DEFENDER - Chris Smalling (Manchester United)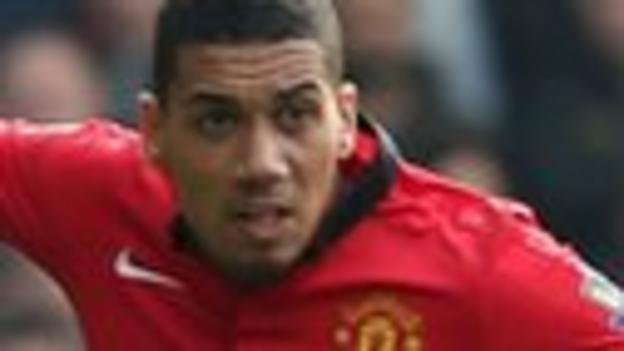 As pundits select their England squad for Brazil, there cannot be an analyst worth his salt who does not think that Chris Smalling is a shoo-in for Roy Hodgson's World Cup party.
While I was taken to task by Dan Walker on Final Score over my view that Smalling has been outstanding for Manchester United this season, the presenter did concede that the defender's World Cup selection was inevitable.
Oddly, I find myself two tables away from the centre-back on a train as I write my Team of the Week.
Did you know? The 24-year-old defender has played 21 Premier League games this season. He had never played more than 20 in any of his previous five campaigns.
DEFENDER - Liam Rosenior (Hull City)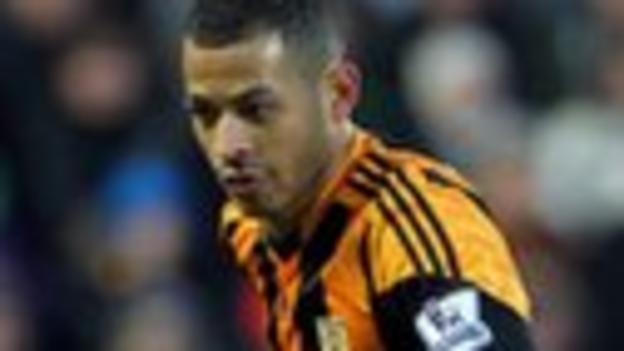 It looks like the Capital One Cup final defeat has had a profound effect on Sunderland. Suddenly the Black Cats appear to be in free-fall.
What I liked about this performance was the quiet authority of Hull City full-back Liam Rosenior.
No frills, just a very professional performance from a player who has had a good run in the Premier League under Steve Bruce and now finds himself in the semi-finals of the FA Cup.
Did you know? Rosenior had 74 touches as Hull beat Sunderland - more than any other player on the pitch.
MIDFIELDER - Phil Jones (Manchester United)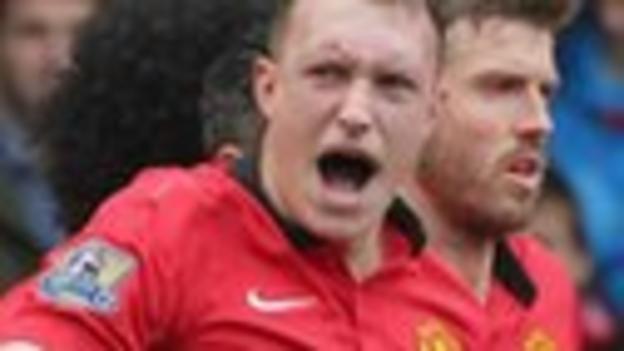 The England player has had his fair share of injuries this season and recovered admirably.
Against West Brom, he looked like he was almost back to his best. With a World Cup around the corner, England's go-to utility player will, provided he remains fit, be a valuable asset for the national team.
Did you know? Both of Phil Jones' Premier League goals for United have come in the Midlands, his previous strike coming against Aston Villa in December 2011.
MIDFIELDER - Michael Carrick (Manchester United)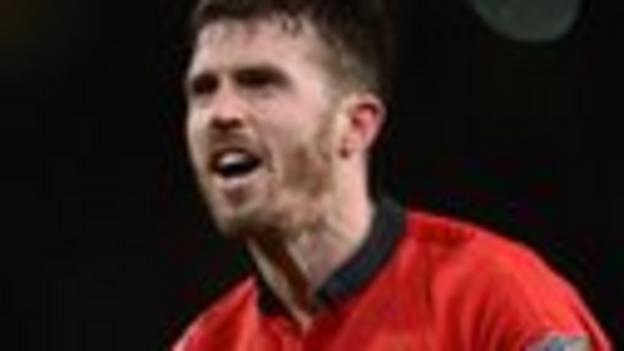 He has not set the world on fire this season but is a player I would take to the World Cup regardless.
Against West Brom he was the link between the attack and defence and, should anything happen to Steven Gerrard, there is not a better man in the country to take over those reins.
Did you know? The 32-year-old misplaced just three of the 67 passes he attempted this weekend and none of 39 he made in the middle third of the pitch.
FORWARD - Mikel Arteta (Arsenal)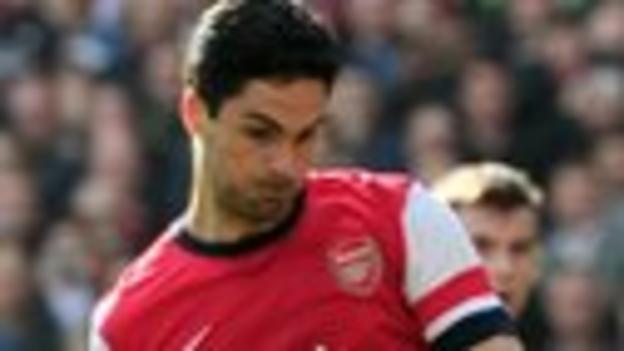 What a second penalty. Talk about holding your nerve. Not only did Arteta show great composure when retaking the spot-kick so successfully but he had the added pressure of not missing against his old team at such a crucial time in the match.
I said in my most recent Team of the Week that the last time Stoke embarrassed Arsenal in the Potteries, the Gunners went on to win the FA Cup. With Manchester City out, they are clear favourites.
Did you know? Each of the Spaniard's last eight goals for Arsenal have been penalties.
FORWARD - Wayne Rooney (Manchester United)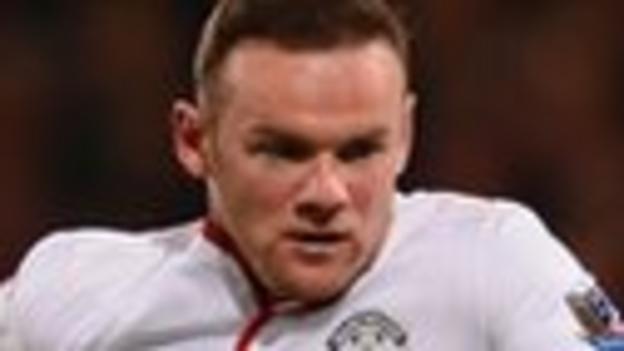 Wayne Rooney is without doubt Manchester United's player of the season.
His overall contribution to the Red Devils has been immense and the only real plus point for David Moyes in what has been an otherwise dismal campaign.
He practically strolled through the 90 minutes against West Brom as he and his team-mates outclassed the relegation-threatened side. West Brom, it has to be said, were totally out of their depth. A bit like their manager Pepe Mel to be honest.
Did you know? Rooney is now the first player in Premier League history to record double figures for both goals and assists in five different seasons.
FORWARD - Eden Hazard (Chelsea)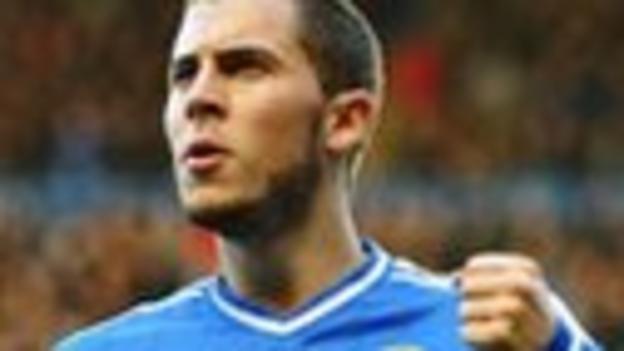 The Belgium international is having such a good season that I am starting to struggle to find superlatives.
There is no doubt about it, since Jose Mourinho's return to Stamford Bridge, the manager has added important elements to Hazard's game. It will be very interesting to see if the player can have the same impact in the World Cup without Mourinho stalking the technical area.
Hazard's very presence was enough to frighten half the Tottenham team to death.
Did you know? The in-form forward has been involved in 40 goals since he joined Chelsea in 2012 - scoring 22 and assisting 18.
FORWARD - Samuel Eto'o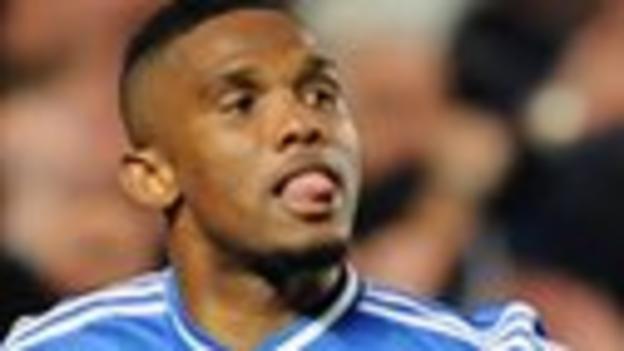 You know you are in good shape when one striker drops out in the warm-up and you replace him with another just as good.
Samuel Eto'o replaced an injured Fernando Torres for Chelsea and Spurs wish he hadn't. The former African player of the year darted around the field like he was 22, not 32.
Mourinho may joke about Eto'o's age but the old man looked as sharp as a razor.
Did you know? All seven of Samuel Eto'o's Premier League goals have come at Stamford Bridge.