Man Utd v Olympiakos: Inspiration comes from 1984 win over Barca
By Jonathan Jurejko
BBC Sport
Last updated on .From the section Football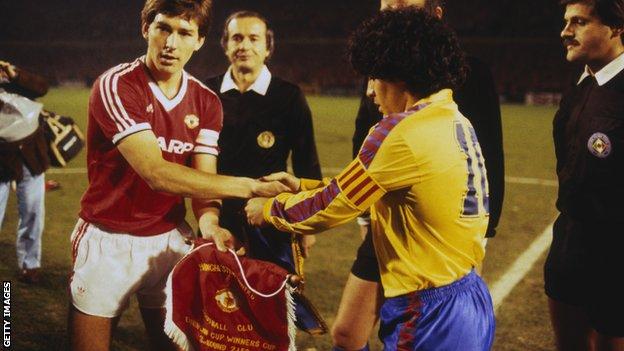 If Manchester United are looking for inspiration to reach the Champions League quarter-finals, they must turn back the clock almost 30 years to the day.
On 21 March 1984, the Manchester night sky was gloomy, and the outlook for the hosts equally dreary.
The Red Devils were hosting Spanish giants Barcelona in the second leg of their Cup Winners' Cup quarter-final, with a vociferous home crowd hopefully optimistic - rather than expectant - of overturning a 2-0 deficit.
"We knew we had a mountain to climb," then-United boss Ron Atkinson tells BBC Sport.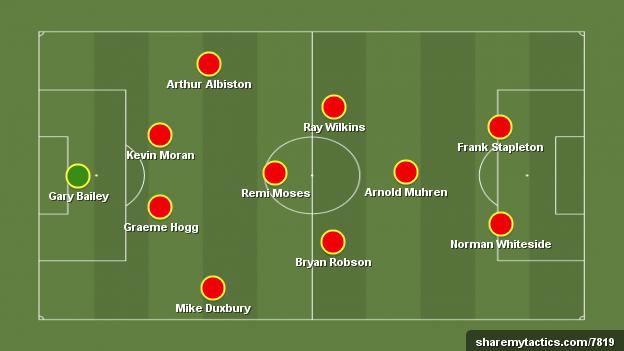 But, against a Barca team built around the irrepressible Diego Maradona - widely acclaimed as the world's best player - and mercurial West Germany midfielder Bernd Schuster, Atkinson's side upset the lengthy odds.
On Wednesday, Old Trafford will be packed to the rafters for another crucial European tie. David Moyes's much-maligned side need to turn around a humbling 2-0 first-leg defeat by Greek champions Olympiakos to reach the last eight.
No Red Devils side has managed to nullify a two-goal deficit on the European stage since the famous win against Barcelona.
Then, many observers had given United little hope of rescuing the tie. A last-minute strike from home winger Juan Carlos Rojo, added to Scottish defender Graeme Hogg's first-half own goal, put Barca in command at the Nou Camp.
Ahead of the return fixture, Atkinson told his players to forget about the first leg, concentrate on winning the Old Trafford match and let the rest take care of itself.
"The first game wasn't a great game, we didn't play particularly well but felt the scoreline flattered Barcelona a little bit," says Atkinson, who managed United between 1981 and 1986 before he was replaced by Sir Alex Ferguson.
"They didn't cause us many problems but scored the late second. They thought that goal put the tie to bed.
'Noise like you have never heard'
"On the day of the game I always remember United chairman Martin Edwards saying to me: 'You will hear a noise inside Old Trafford tonight like you have never heard in your career,'" recalls Atkinson.
Backed by 58,350 noisy Mancunians, United unsettled their illustrious opponents from the first kick. Loud jeers and whistles from the stands greeted every Catalan touch as a flurry of red shirts surrounded the ball.
Northern Ireland forward Norman Whiteside almost put United ahead when his 15th-minute lob bounced off the top of the crossbar after Barca goalkeeper Javier Urruticoechea unconvincingly flapped at Ray Wilkins's teasing right-wing cross.
Urruticoechea's indecision caused panic among his defenders and provided impetus to the home players. Barcelona grew edgy, United grew in stature.
"That set the tone for the goalkeeper being nervous," remembers Arthur Albiston, United's left-back on the night.
As Barca wilted, United quickly took advantage of the building pressure. Another Wilkins delivery, this time from a left-wing corner, caused consternation among the visitors as United skipper Bryan Robson flung himself at Whiteside's near-post flick to head in.
Old Trafford erupted. The hosts dared to dream.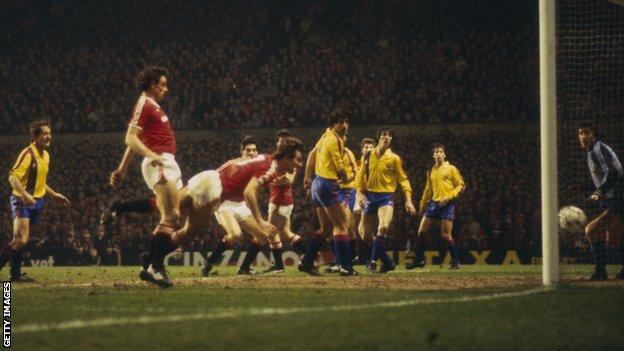 'Captain Marvel' outshines Maradona
Barcelona managed to regain some composure before the half-time break, but were overwhelmed by the home side's rampant start to the second period.
Inspired by box-to-box midfielder Robson, United refused to let Barcelona settle on the ball, forcing the visitors into more errors.
"All the build up was about Maradona. But it was the match which gave Bryan Robson the world-class status he deserved," says Manchester United Supporters Trust vice-chairman Ian Stirling, who was stood on the Old Trafford terraces.
Shortly after the restart, Robson pounced on a rebound to net United's second in front of a jubilant Stretford End.
Spain midfielder Victor Munoz panicked under pressure, playing a dangerous back pass towards a scrambling Urruticoechea, who could then only parry Wilkins's stinging shot, leaving Robson with an easy finish.
United were level in the tie - and knew Barca were rocking.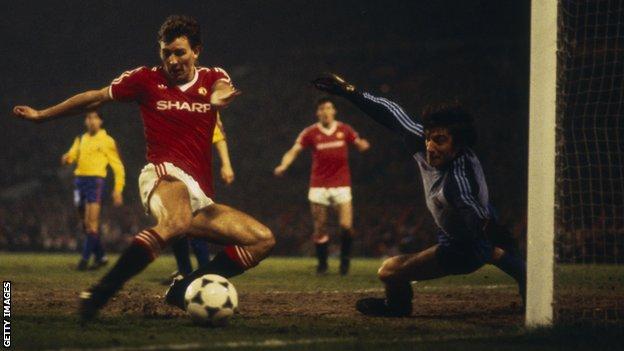 Wilkins, wheeling his arms in motion while in possession, urged his team-mates forward, while Atkinson instructed them to "attack but attack sensibly" from the touchline.
They needed less than a minute to grab the third.
Robson sprayed an inch-perfect ball out to the left touchline, where Scottish left-back Albiston galloped forward.
"In Spain, Barcelona didn't have to defend against crosses bombed into the box," Albiston told BBC Sport. "With the aerial threat of Frank Stapleton, Norman Whiteside and Bryan Robson, we knew if we got a good ball into the box, then Barca would struggle to cope."
Albiston delivered a teasing, deep cross which the Spanish defence could not clear as Whiteside headed back to strike partner Stapleton.
Old Trafford held its collective breath. Stapleton kept his cool.
The Republic of Ireland striker prodded in the third and United led for the first time in the tie.
United heartbreak if Barca score
"The problem we had then, in hindsight, was we had another half-an-hour to hang on knowing full well an away goal would send us out," says Atkinson.
There were moments of concern, notably when United substitute Mark Hughes - the current Stoke City manager - bundled over a Barca opponent inside his own penalty area. "It was a stick-on penalty," concedes Atkinson.
Italian referee Paolo Casarin waved away Barca's protests and United survived to claim a famous win.
Ecstatic home fans raced on to the pitch to congratulate their heroes. Robson, who had been linked with a move away from Old Trafford to Italy's Serie A, was mobbed, hugged and kissed, then carried shoulder-high off the pitch by his adoring followers.
"Even to this day, players who played and people in the stands - and Manchester United have had many great nights - would say, atmospherically, they have never known a night like that," concludes Atkinson.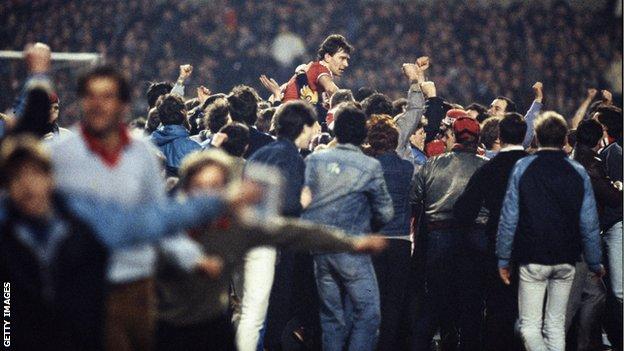 Whether David Moyes has sat his underachieving players down in front of a big screen to watch grainy highlights, we do not know.
But Wayne Rooney can take inspiration from Robson. Danny Welbeck should be encouraged by Wilkins. And Robin van Persie ought to seek motivation from Stapleton.
"This is one of the great Old Trafford nights. This is what European football is about," gushed a proud Atkinson after the final whistle.
Olympiakos are not Barcelona. Joel Campbell would not lace Maradona's boots.
But if the Red Devils manage to overcome the Greek champions and reach the Champions League quarter-finals, Moyes will be celebrating his greatest night so far at Old Trafford.