Barnsley: Brek Shea apologises for fans gesture
Last updated on .From the section Football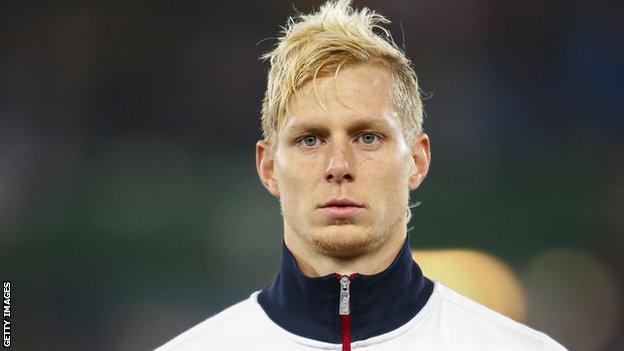 On-loan Barnsley midfielder Brek Shea has publicly apologised for making an offensive gesture towards the club's travelling supporters.
The American, on loan from Stoke, made the gesture at the end of Barnsley's 5-0 defeat at Huddersfield last week.
The club subsequently issued an apology for the behaviour of both Shea and team-mate Stephen Dawson.
Shea, 24, has tweeted: "I would like to unreservedly apologise for what happened at the end of the match."
He continued: "Although my actions were aimed at one person who was abusing a team-mate, I realise I should not have reacted in that way in the heat of the moment.
"I regret those actions and the offence it has caused. I did not intend to offend the Barnsley fans, who have shown tremendous support for the team.
"The best way I can show this and repay you, the fans, is with my performances on the pitch."
Dawson, who was involved in a verbal exchange with supporters, apologised earlier this week.
After the match, Shea, who has been away on international duty with the USA this week, tweeted: "Don't know what people are talking about."
The defeat by Huddersfield saw Barnsley fall back to the bottom of the Championship table, ahead of Saturday's home game against promotion-hopefuls Nottingham Forest.