South Africa leave match-fixing probe to Fifa
Last updated on .From the section Football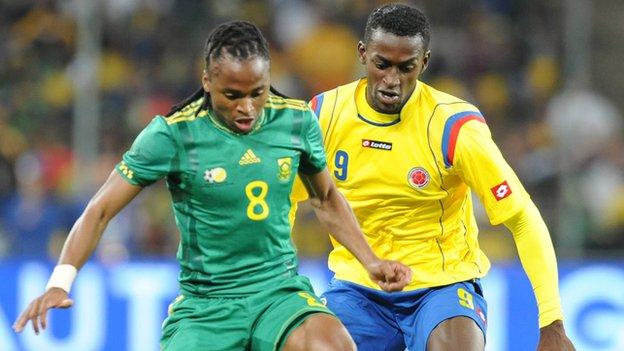 South African president Jacob Zuma has decided not to appoint a commission of inquiry to investigate allegations of match-fixing involving the national team ahead of the 2010 World Cup.
South Africa's presidency issued a statement on Friday confirming the investigation will be done by world soccer body Fifa instead.
The decision comes 18 months after a commission had been mooted by sports minister Fikile Mbalula following newspaper reports that several home friendlies played by South Africa had been fixed before the country hosted the finals.
Fifa said last November it would be taking over the investigation because of government inaction, an announcement condemned by Mbalula.
Former South African Football Association president Kirsten Nematandani and four other top officials were briefly suspended in late 2012 following the handing over by Fifa to the South African Football Association of a 500-page investigation.
It documented the activities of Singapore-based convicted match fixer Wilson Perumal and his Football 4U organisation in which the involvement of South African officials was highlighted.
Within a month, their suspension was lifted on procedural grounds and there has been no further investigation.
Fifa found the results of pre-World Cup warm-up matches against Thailand, Bulgaria, Colombia (pictured) and Guatemala in the weeks leading up the 2010 finals were fixed.
The report found the suspended officials had engaged Perumal to organise opponents for South Africa and also agreed to Perumal's suggestion he import and pay for referees from other African countries to handle the matches.
The referees then fixed the results of the games, with dubious penalty decisions and poor offside calls, to benefit an Asian betting syndicate.
Allegations of match fixing were first revealed in the South African press in July 2011 but Safa only raised the issue once Fifa had incorporated the country into a wider investigation into Perumal's activities.