Histon FC board threaten to resign in 21 days
Last updated on .From the section National League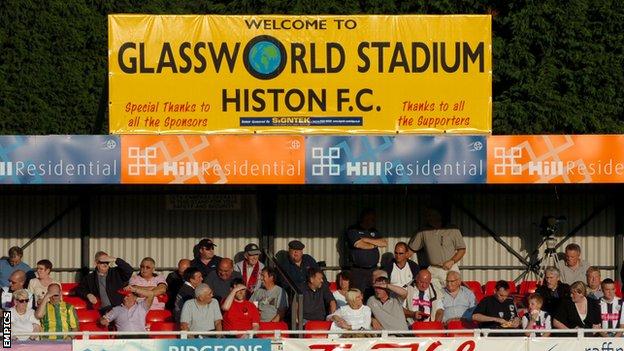 The board of Conference North side Histon have confirmed their intention to resign within 21 days should a resolution fail to be reached over a restructuring of the club.
The six board members want the club's shareholders to relinquish their stakes in order to attract new investment.
Five of the Stutes' six largest shareholders have agreed to the deal, aside from Angelo Dama.
"I am waiting on how to proceed," he told BBC Radio Cambridgeshire.
"I have never asked for my money back and I am waiting for a further response from the club.
"I feel the club has been struggling for two years and should have asked for help prior to now."
Histon, based in a village outside Cambridge, have struggled financially since the dizzy heights of the 2008-09 season, when they reached the Conference Premier play-offs and knocked Leeds United out of the FA Cup.
The Bridge Road side urgently need to raise funds, but are struggling to attract investment given their current shareholding structure.
None of the current board are shareholders, with former vice-chairman Dama controlling the largest share of 31%, the value of which is essentially worthless.
However, the shareholders will need to appoint a new board of directors if they fail to reach an agreement with the current directors to allow the club to restructure.
"Outside investors will not make any commitment to the club, particularly in terms of sponsorship, with the club in its present format," the club's company secretary Michael Toland said at Thursday's annual general meeting.
"The board has therefore said it can't take the club any further forward and are prepared to continue in office until a new board is appointed, but have given notice to shareholders that they will resign their position."