Sheffield United: FA Cup now more important - Nigel Clough
Last updated on .From the section Sheff Utd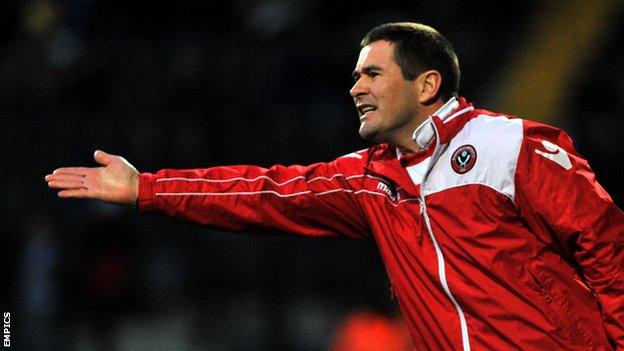 Sheffield United manager Nigel Clough has admitted Sunday's FA Cup quarter-final is more important than league points.
The League One Blades face Charlton Athletic at Bramall Lane with a semi-final place at Wembley at stake.
Clough told BBC Radio Sheffield: "We've got a bit of breathing space in the league now, so this time getting to Wembley is the most important thing.
"The experience of going to Wembley is worth fighting for."
Clough continued: "In lots of ways it is just another game but we know what's at stake and it would be daft not to recognise that. Wembley is the reward if we can get a result, and some players might never get there again.
"The motivation and incentive is there."
With victories over Aston Villa, Fulham and Nottingham Forest to their name in previous rounds, many have in-form United marked down as favourites to beat the Addicks, who are struggling in the Championship.
But Clough said his side would have to play better than they have in any of their previous eight games - all of which have been won.
"Football has a funny way of doing things sometimes, in that you win games you're not expected to and lose games you expect to win," the former Derby boss explained. "They're still the favourites, the Championship club, despite us being at home - it's just the great run we've been on that is making people tag us as favourites.
"In the space of two or three weeks we've gone from the bottom three to the top ten, and if we don't do our job right over the next two or three weeks we could be back there. I don't think that's going to happen, but we have to be realistic."
Clough acknowledged the chances of a League One club reaching the final, or even winning the competition, were very slim.
"The gulf in quality is just too great," he added. "There's a few getting through the early rounds when the big boys put out weakened teams, but as they progress they put out stronger teams because when you get down to it they all want to win the FA Cup."
He said his father Brian, who famously never managed a side to FA Cup success, would have been pleased to see United's progress.
"He'd be saying 'let's go out and enjoy it on Sunday and give it a go'. Our approach and philosophies about how we want to play, the majority come from him.
"We're going to have to play the best we have throughout the competition, and the key is being solid, not conceding and then looking for someone to provide that bit of quality - which has happened in the previous rounds."