Queens Park Rangers announce £65m loss in 2013 accounts
Last updated on .From the section QPR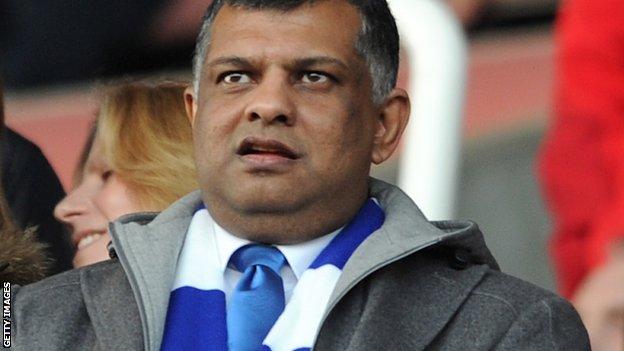 Championship side Queens Park Rangers made a loss of over £65m in their accounts for the year to May 2013.
QPR spent £41.4m on transfer fees and saw their wage bill increase by almost £17m to £68m in an attempt to avoid relegation from the Premier League.
The Loftus Road side's overall debt increased to £177.1m, up from £91.4m in the 2012 accounts.
Championship clubs losing more than £8m in 2013-14 will be subject to sanctions under Financial Fair Play (FFP) rules.
QPR Holdings Limited posted their accounts with Companies House earlier this week.
"When, alongside my business partners, I purchased a majority shareholding in the club in August 2011, my goal was to turn QPR into an established Premier League club," QPR chairman Tony Fernandes wrote in his statement.
"Being relegated was obviously not part of our plans, but our focus and determination to achieve our long-term goals has not diminished.
"We are confident that the 2013-14 season will also see the club continue to make progress towards achieving its short, medium and long-term off-pitch target."
During the accounting period, the number of players, coaches and support staff on the club's books swelled from 84 to 107.
Rangers bolstered their squad under manager Mark Hughes in the summer of 2012 and, after the Welshman was sacked in November that year, more money was made available to his successor Harry Redknapp in the January 2013 transfer window.
The big-money, high-wage arrivals included Julio Cesar, Park Ji-Sung, Estaban Granero, Jose Bosingwa, Christopher Samba and Loic Remy, but it made no difference as they dropped out of the top flight.
Rangers have since off-loaded those six players and others in an effort to cut their wage bill.
Following their relegation in May, Malaysian entrepeneur Fernandes claimed he had been "exploited" since he took over at Loftus Road, and the club is now under pressure to try and avoid an FFP rules penalty.
Rangers are currently fourth in the Championship, but have little chance of closing a 17-point gap on leaders Leicester with only 14 games still to play, and are nine points adrift of Burnley, who currently occupy the other automatic promotion place.
Any team remaining in the second tier that falls foul of FFP rules will be subject to a transfer embargo until they can prove their financial results are in line with the regulations, while a team promoted to the top flight will be subject to a fine, which is operated on a sliding scale.
Fernandes, who also owns AirAsia and is team principal of the Caterham Formula 1 team, completed his takeover of QPR in 2011.
The 49-year-old has plans to build a new training ground at Warren Farm in Ealing and in December the club unveiled proposals for a new 40,000-seater stadium in a development at Old Oak Common.