Player suspended for 'Sisi' sign
Last updated on .From the section Football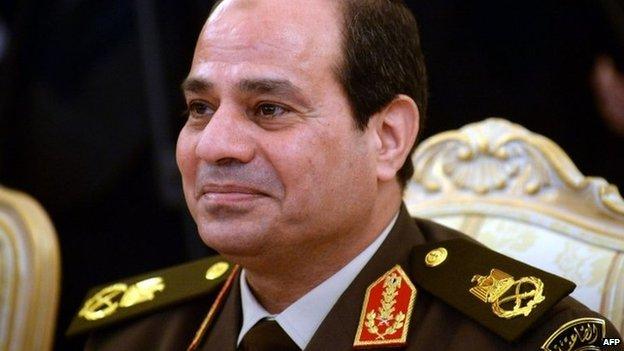 Egypt's FA has suspended a player accused of gesturing in support of the country's military chief.
The EFA said Salah Amin, who plays for Tala'ea El-Gaish, was in violation of rules against political statements by players.
Amin is the latest sportsman to be punished for making a political gesture.
Multiple African champions Al Ahly suspended Ahmed Abdel Zaher last December for a pro-Islamist salute.
Egypt has been sharply polarised between supporters of the military and those of Islamist president Mohamed Morsi, deposed by the army in July.
Amin shaped the finger and thumb of each hand into the letter "C" after scoring a goal. Sisi's surname is often written as "C.C" in graffiti.
The EFA said he would be suspended for the rest of the season and fined $2,900.
Amin denied he was making a "C.C" gesture, telling state television he was mimicking pressing an aerosol can of the type used in some Egyptian celebrations.
"I don't know anything about politics," he said.
"He doesn't know anything," concurred his former coach, also being interviewed on state television.
Egypt's kung fu association also banned a player after he made a pro-Islamist salute.
The four finger gesture refers to a pro-Morsi protest camp in which hundreds died in clashes with police last year.