Leeds United: Massimo Cellino tax trial raises takeover doubt
Last updated on .From the section Football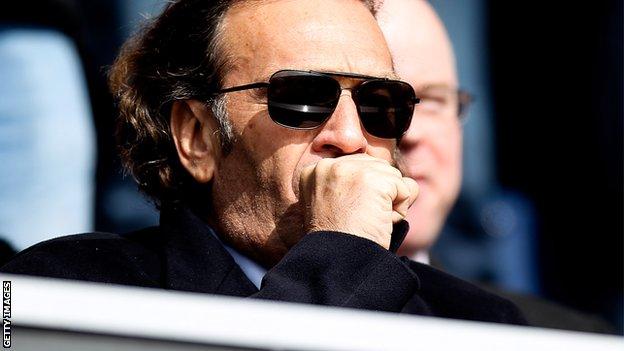 Massimo Cellino's proposed takeover of Leeds United could collapse if the Italian is found guilty of tax evasion at a Sardinian court later this month.
Cellino denies illegally evading paying €400,000 import duty on a yacht.
The case is due to be heard on 18 March, five days after the next meeting of the Football League, which is currently considering whether he passes the "fit and proper person" test.
The Football League is likely to delay a decision until the case is decided.
If the Cagliari owner is convicted, the League would almost certainly bar him from completing his purchase of 75% of current owner GFH's stake in Leeds.
The League's "fit and proper persons" rules prohibit people with unspent convictions for dishonesty offences from being directors, 30% owners or from exercising control over one of its clubs.
The vessel in question was seized in Cagliari in 2010 and the Sardinian prosecutor wants it confiscated while hitting the Miami-based entrepreneur with a €1.1m (£904,000) fine.
Cellino is also under investigation for the alleged misuse of public funds concerning Cagliari's stadium, an investigation which his lawyer Professor Giovanni Cocco told BBC Radio Leeds is "an irrelevance".
BBC Radio Leeds reports that the Football League is also asking questions of GFH as to why Leeds United chairman Salah Nooruddin's company Envest has recently been removed from the club's ownership statement.