World Cup 2014: England, Brazil and Netherlands cliches analysed
By Jonathan Jurejko
BBC Sport
Last updated on .From the section 2014 Fifa World Cup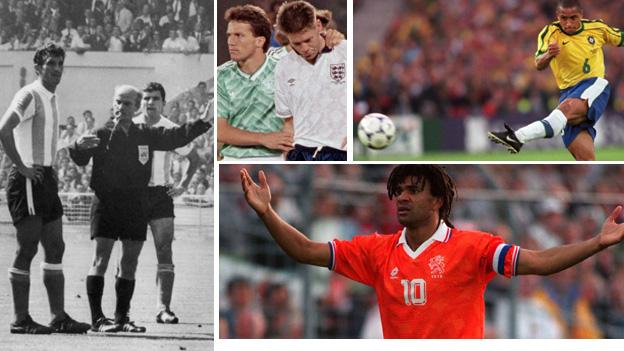 Go to our new World Cup features and video index for more in-depth content and analysis.
England are useless at penalties. South American players are the dirtiest. The Dutch are always hampered by in-fighting. African teams can't defend.
World Cups are full of well-trodden assumptions.
During the finals, the same lines are trotted out by players, coaches, fans and commentators from four years before. And the four years before that.
But is there any substance to them?
Ahead of the 2014 tournament, BBC Sport uses analytical data to examine seven of the most common World Cup cliches.
1. England arrive at a tournament burnt out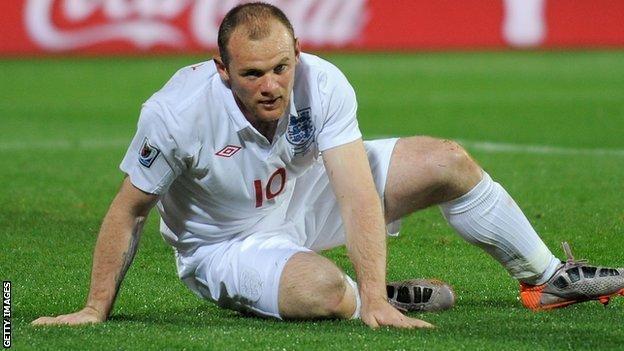 England's languid performance at the 2010 finals, characterised by a heavy-footed display against last-16 conquerors Germany, was blamed on the players suffering from physical 'burn out'.
Responsibility fell largely at the feet of manager Fabio Capello, with questions asked about the wisdom of the Italian coach's tough pre-tournament regime of double training sessions at high altitude after a long domestic season.
His successor Roy Hodgson has already spoken about the importance of not pushing the current crop "beyond their limits" ahead of Brazil.
And Hodgson can take heart from the statistics, which show his men should be fresher than Capello's team for their respective World Cup openers.
England's possible starting XI - World Cup 2014

Player

Games played

Games started

Minutes played

G. Cahill

47

46

4,213

A. Lallana

42

39

3,307

J. Henderson

40

38

3,481

W. Rooney

40

37

3,317

S. Gerrard

39

38

3,367

J. Hart

39

39

3,510

D.Welbeck

36

24

2,292

L. Baines

35

35

3,109

D. Sturridge

33

30

2,665

P. Jagielka

30

29

2,517

G. Johnson

30

30

2,641

TOTAL
411
385
34,419
Taking a predicted starting XI, Hodgson's team have played a total of 411 matches, with 385 starts, over the 2013-14 season. But a better indicator of their energy levels is the number of cumulative minutes played by the 11 men - 34,419 - for their club sides since last August.
That compares to the 36,353 minutes played in 2009-10 by Capello's starting XI against the United States in South Africa. They had also played a combined 32 matches more than their 2014 counterparts.
England's starting XI - World Cup 2010

Player

Games played

Games started

Minutes played

J. Terry

52

51

4,538

F. Lampard

51

49

4,479

S. Gerrard

49

47

4,129

J. Milner

49

48

4,361

W. Rooney

44

42

3,622

E. Heskey

42

26

2,121

R. Green

41

41

3,731

A. Cole

35

32

2,780

G. Johnson

35

33

3,000

A. Lennon

24

21

1,955

L. King

21

20

1,637

TOTAL
443
410
36,353
How do these statistics compare with their Group D rivals?
The good news is that Hodgson's side should feel less fatigue than Italy on 14 June. Again using a predicted starting XI, the Azzurri played and started over 40 matches more than England last season, spending almost 2,500 minutes on the pitch more than the Three Lions.
Meanwhile, holders Spain, who England could potentially face in the quarter-finals, have played even more than the Italians, racking up a combined total of 37,388 minutes. Their total is impacted by several likely starters helping Real Madrid and Atletico Madrid reach the Champions League final.
Combined minutes played in 2013-14

England

Italy

Uruguay

C. Rica

Brazil

Spain

Games played

411

445

355

323

384

477

Games started

385

424

290

286

346

430

Minutes played

34,419

37,130

26,823

25,685

30,656

37,388

* Based on predicted starting XIs
But the bad news is that England may be feeling more lethargic than their other first-stage opponents. Both Uruguay and Costa Rica have played considerably less football over the past 10 months - Luis Suarez and company collectively totalling almost 8,000 fewer minutes than England, with the Central American side amassing over 9,000 less.
That's the equivalent of each England man playing over nine complete matches more than their Costa Rican opposite number.
Hosts Brazil - another side who could possibly meet Hodgson's men in the last eight - should also be feeling more sprightly. The Selecao's likely first XI played a combined total of 30,656 minutes for their clubs last season - almost 4,000 less than their English rivals.
2. South American teams are the dirtiest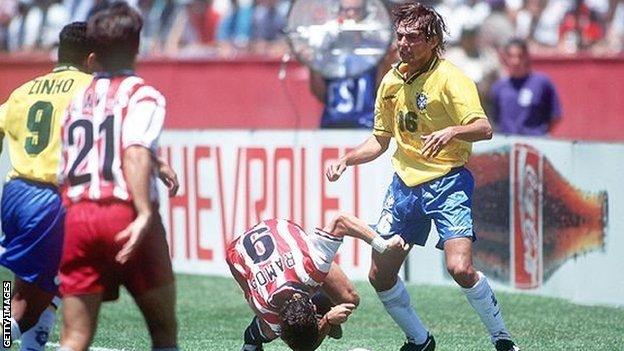 South American nations dominate the top three in the list of countries which have received the most World Cup red cards.
Brazil lead the 'hall of shame' after 11 dismissals, with Argentina (10) and Uruguay (eight) just behind them.
Analysis of the number of fouls conceded since the 1966 tournament, with teams grouped by continent, paints a different picture. Only Concacaf, made up of North and Central American teams (16.83), and Europe (17.37) have committed a lower average of fouls per game than South America (17.55).
That means Africa are the 'dirtiest' continent on that basis, averaging 18.32 fouls against the opposition.
Number of fouls conceded by continent

Games played

Fouls conceded

Fouls per game

Africa

109

1,997

18.32

Oceania

16

287

17.94

Asia

81

1,428

17.63

S.America

215

3,774

17.55

Europe

651

11,309

17.37

Concacaf

88

1,481

16.83

* Only including data from 1966 onwards
But two notable incidents at World Cups perpetuate the myth among British football fans that South American sides are, to be generous, physical or, at worst, downright dirty.
England's World Cup-winning manager Sir Alf Ramsey, so often described as mild-mannered and a 'gentleman', exploded in an uncharacteristic apoplectic rage following the 1966 World Cup quarter-final against Argentina.
Ramsey was incensed with Argentina's antics - including skipper Antonio Rattin refusing to leave the pitch after being sent off - and refused to allow his players to swap shirts with their opponents, who he afterwards described as "animals".
Full-back George Cohen later claimed the Argentines were spitting and pulling the hairs and ears of England players.
Then, in 1986, Uruguay's reputation was blackened in the eyes of most of the watching world with a series of overly-combative displays.
This was particularly evident against group-stage opponents Scotland, where defender Jose Batista secured infamy by being shown a red card after just 56 seconds for a wild lunge on Gordon Strachan.
3. African teams can't defend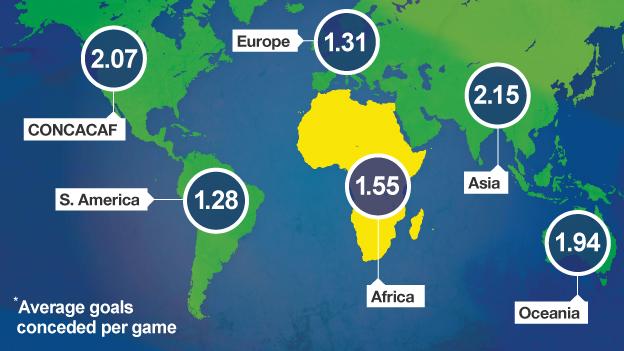 Following Zaire's shambolic defensive performance at the 1974 World Cup, some people have tended to stereotype that African teams struggle at the back.
Zaire are infamous for their record 9-0 defeat by Yugoslavia, where static marking, non-existent free-kick walls and general disorganisation allowed their opponents to score almost at will.
Unsurprisingly, the Leopards - now known as DR Congo - have the worst World Cup defence after conceding 14 goals in their three matches in 1974.
This cliche has been maintained more recently by Cameroon's indisciplined backline in 1990, where they conceded two penalties in a 3-2 quarter-final defeat by England, and boss Sven-Goran Eriksson's concerns about his talented, but defensively frail, Ivory Coast team four years ago.
However, closer inspection of the statistics show African teams have the third-best defensive record in World Cup finals.
They have conceded an average of 1.55 goals during the finals, with only South America (1.28) and Europe (1.31) leaking less as a continent.
But Africa does boast the meanest defence - using a minimum of three matches played at a finals - as Angola only conceded two goals in 2006.
Best World Cup defences

Games played

Goals conceded

Conceded per game

Angola

3

2

0.67

R.Ireland

13

10

0.77

Wales

5

4

0.80

E.Germany

6

5

0.83

Croatia

13

11

0.85

England

59

52

0.88

* Minimum of three matches at a World Cup finals
4. Brazil are the free-kick kings
Brazil have scored more direct free-kicks at the World Cup finals than any other nation - proving that the Samba stars really are the free-kick kings.
The Selecao have converted nine goals from dead-ball situations outside of the penalty area and most of them are worthy of appearing on a showreel of the tournament's best set-pieces.
Dirceu's arcing left-footed effort against Peru in 1978, sweetly flicked over the opposing wall before flying into the corner, plus Zico's unstoppable curler against Scotland four years later, are two of the best examples of Brazilian free-kick brilliance.
Roberto Carlos's vicious strike against China in 2002, or Rivelino's accurate effort against East Germany in 1974 - where he placed the ball over the head of ducking team-mate Jairzinho who was stood in the opposition wall - are also worthy of inclusion.
Perhaps their amount of free-kick goals is not surprising considering they have taken 166 set-pieces at goal - again more than any other team.
5. England are the worst at penalty shootouts
Here's a statistic which will bring Gazza-style tears to England fans - and one they probably knew already - the Three Lions have the worst penalty shootout record in World Cup history.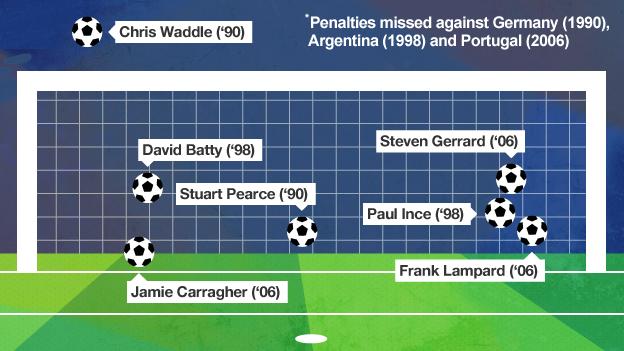 England have taken part in three shootouts (1990, 1998 and 2006) since they were introduced by Fifa ahead of the 1978 tournament. They have lost all three.
Only Italy have also experienced a trio of shootout losses, although the Azzurri can point to keeping their nerve on one occasion. That came in the 2006 final, where they beat France 5-3 to lift the trophy.
But there is a small crumb of comfort for England ahead of this year's tournament - they do not have the worst success rate.
The numbers are still not great viewing though, with Three Lions players converting just 50% of their 14 efforts. Switzerland are bottom of the penalty pile after missing all three of their attempts.
And what about that other penalty cliché, that the Germans are uber-efficient from 12 yards? That rings true as they have converted 17 of their 18 efforts for a success rate of 94.4% - better than any other nation.
Uli Stielike's miss in the 1982 semi-final success against France is the only blemish on their near-perfect record.
6. European teams struggle in South America
This theory is borne out of the fact that no European side has ever won the World Cup on South American soil. And the statistics do show that they struggle there.
Based on three points for a win and one for a draw, European teams have earned 1.34 points per game in the finals held in Uruguay, Brazil, Chile and Argentina. This compares to 1.59 on their own continent.
Hosts Uruguay won the inaugural 1930 tournament, before they also claimed the Jules Rimet Trophy across the border in Brazil in 1950.
Twelve years later, Brazil won in Chile and then Argentina triumphed on home turf in 1978 - both beating European opposition, in the shape of Czechoslovakia and Netherlands, in the final.
The Czechs and the Dutch are the only European nations to reach the final in South America.
7. The Dutch are always fighting
The 1970s. Johan Cruyff. Total Football. That's what the Netherlands and World Cups used to be synonymous with. Now the Dutch are better known for hitting the self-destruct button at major tournaments - with a string of historical evidence that could be used to support the stereotype.
1990: After failing to qualify for Spain 1982 and Mexico 1986, the Dutch headed to Italy as reigning European champions. But they arrived in a state of mutiny.
Senior players, including Frank Rijkaard, Ronald Koeman and Marco van Basten, had told the Royal Netherlands Football Association (KNVB) they would not play at the finals under coach Thijs Libregt, who was then sacked shortly before the finals and replaced by Ajax manager Leo Beenhakker.
But still the disgruntled players were not happy as, according to Koeman, the vast majority of the squad wanted Barcelona manager Cruyff to lead them. Beenhakker remained and a disharmonious squad was eliminated in the second round by arch rivals West Germany.
1994: Oranje captain Ruud Gullit, hampered by a knee injury at Italia 90, missed another opportunity four years later to shine on the World Cup stage. That was because of a long-running feud with coach Dick Advocaat.
Ahead of the finals in the USA, the ex-AC Milan, Sampdoria and Chelsea midfielder announced he was retiring from international football because he did not agree with Advocaat's tactical approach.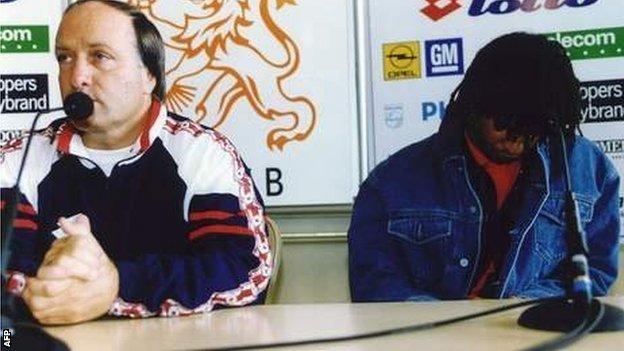 2010: Sixteen years of relative calm has followed at World Cups, although Dutch discontent did lurk in the background of their European Championships campaigns in 1996 and 2008.
Ajax midfielder Edgar Davids was sent home from Euro 96 after criticising coach Guus Hiddink's decision to drop him for the group match against Switzerland. Then it sparked suggestions of a racial split in the camp - claims which were later denied.
In 2008, AC Milan midfielder Clarence Seedorf quit during the qualification campaign after falling out with boss Marco van Basten. Then Arsenal forward Robin van Persie and Real Madrid playmaker Wesley Sneijder - two of the Oranje's biggest talents - clashed on the eve of the tournament after a late tackle on the training pitch.
But, despite reports to the contrary, there were no signs of a feud between Van Persie and Sneijder two years later in South Africa. The pair were pivotal parts of the Dutch side which reached the 2010 final where they were narrowly beaten by Spain.
Will the cliches continue?
If England fail in Brazil then the statistics show that fatigue, at least, cannot be blamed by Roy Hodgson and his players. But there will be plenty of knuckle-clenching nervousness across the country ahead of any penalty shootout involving the Three Lions.
Is this the year when a Dutch squad - harmonious or otherwise - finally become World Cup winners? And if current boss Louis van Gaal masterminds an Oranje success then another myth will be busted - European teams can succeed in South America.
When one lucky captain lifts that trophy on 13 July, these seven cliches could have been consigned to the past. Or further fuelled and trotted out again in four years' time.