Martin O'Neill takes positives from Republic of Ireland defeat
Last updated on .From the section Football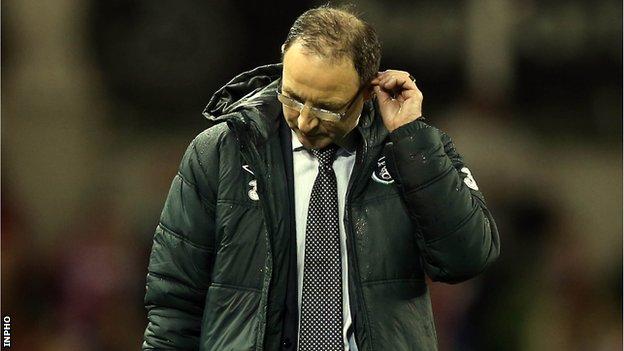 Martin O'Neill was not downhearted despite Republic of Ireland losing for the first time since he took charge as they were beaten 2-1 at home by Serbia.
Shane Long put the Republic ahead but missed two other chances as a James McCarthy own goal and Filip Djordjevic strike gave Serbia victory in Dublin.
"I was pleased with a lot of aspects of the game," said O'Neill.
"We started off very brightly and if we had made it 2-0, that would have been very big for us."
Long started the game in impressive fashion as he pounced on Chelsea defender Branislav Ivanovic's under-hit back-pass to put the Republic ahead on eight minutes.
That came after the impressive Wes Hoolahan had a second-minute effort wrongly ruled out for offside.
But Long then missed a gilt-edged chance to double the Republic's lead before half-time after being played in by Hoolahan.
The Hull striker squandered another glorious opportunity when the score was 1-1.
O'Neill said: "It was a terrific goal that he scored. With that confidence, I probably would have expected him to take at least one of the other two chances that he had.
"The one in the first half to make it 2-0 would have been a big moment for us. But that can happen."
O'Neill, for whom this was a third match in charge since his appointment in November, said there were "plenty of positives".
He added: "If you had said to me before the game, that we could create those clear-cut chances - and they weren't half-chances, they were brilliant chances - I would have been pretty pleased.
"Maybe I would have expected us to take one or two more but that said, there is plenty to go with [from the performance]."
O'Neill was "very pleased" with Hoolahan and "a few others as well", and said he would have "gone mad" had he known at the time the Norwich midfielder's early effort should have stood.
He said: "It was disappointing to find out it was about a yard and a half onside. I have just mentioned it to [the referee] and he has apologised if that was the case."
After their lively first-half display, O'Neill acknowledged his side were not the same force in the second period.
"They scored a goal and we lost our way a little bit then for a while," he said.
Long, meanwhile, acknowledged the game would be remembered for his two misses rather than his early goal.
"The second chance I had, the keeper gambled and read me like a book, I suppose, and I just dragged the third one a bit," he added.
Serbia interim manager Ljubinko Drulovic was delighted with the resolve his players showed.
"I'm very happy and very proud. We still have a long way to go, but we played against a very strong team," he said.